In the late 1980's the TARDIS materializes at a South Pole Space Tracking Station, where General Cutler battles with invaders from the Tenth Planet, Mondas - Earth's missing sister planet - which is draining away Earth's energy. The planet's inhabitants, called Cybermen, are ruthless and logical; their original bodies have been replaced with plastic to make them invulnerable and immune to disease. The Cybermen take control of the Earth; they plan to use the powerful Z-Bomb at the South Pole base to destroy Earth before it destroys Mondas. They want to take Earth people to Mondas to turn them into Cybermen. Ben outwits them and before the Cybermen can again infiltrate the base Mondas absorbs too much energy and is destroyed. Without energy from Mondas to sustain them the Cybermen die. Worn out by the strain of recent events the Doctor seems to grow very old and when he returns to the TARDIS he collapses on the floor and begins to change. . . .





The Doctor: William Hartnell
Polly Wright: Anneke Wills
Ben Jackson: Michael Craze

Guest Appearances:
General Cutler: Robert Beatty
Dyson: Dudley Jones
Barclay: David Dodimead
Schultz: Alan White
Williams: Earl Cameron
Tito: Shane Shelton
Sergeant: John Brandon
Wigner: Steve Plytas
Rader Technician: Christopher Matthews
Technician: Ellen Cullen
Announcer: Glen Beck
Terry Cutler: Callen Angelo
R/T Technicians: Christopher Dunham, Nicholas Edwards
Krang, Talon: Harry Brooks
Jarl, Krail: Reg Whitehead
Gern, Shav: Gregg Palmer
Cyberman Voices: Peter Hawkins, Roy Skelton
Cybermen: Bruce Wells, John Haines, John Knott
Secretary: Shelia Knight
Corporal: Alec Coleman


Producer: Innes Lloyd.
Script Editor: Gerry Davis.
Writer: Kit Pedler (with Pat Dunlop and Gerry Davis uncredited).
Director: Derek Martinus.
Designer: Peter Kindred.
Costume: Sandra Reid.
Make up: Gillian James.
Music: Stock. (various tracks and composers)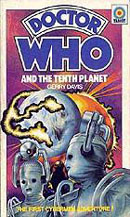 Novelised as "Doctor Who - The Tenth Planet" by Gerry Davis (0 426 11068 4) first published by Tandem (became W.H. Allen) as Doctor Who and the Tenth Planet in 1976 with cover by Chris Achilleos. New edition by Virgin Publishing Ltd.) in 1993 with cover by Alister Pearson. Target library number 62.
Limited availabilty on Video: Released on video as "The Cybermen Early Years" containing Episode 1 plus their first words from Episode 2.
Also Released on video as "The Cybermen Box Set: The Tenth Planet and Attack of the Cybermen" in UK (November 2000) , with the first three episodes and a full reconstruction of episode 4 by the Doctor Who Restoration Team.

This marks the first appearance of the Cybermen, and it is also the first regeneration story.
William Hartnell was ill and did not appear in episode 3.
Michael Craze met his wife on this story, a production assistant.

The first three episodes of this story exist as 16mm telerecordings, all held by the Film & TV Library when audited in 1978.

Ealing filming. (30 August - 2 September 1966)
Studio recording in Riverside 1. (17, 24 September; 1, 8 October 1966)



Episode 1-4 - During every outdoor scene in Antarctica, heavy blizzards are shown raging constantly. In reality, such blizzards are extremely rare at the South Pole, thanks to the almost total absence of precipitation.