The Doctor makes a complete recovery from his regeneration: a new personality seems to inhabit his totally new physical form. The TARDIS materializes on the Earth colony Vulcan in AD 2020. The Doctor takes a stroll through the mercury swamps and comes upon the murder of an Earth Examiner. When the Deputy Governor and Head of Security turn up the Doctor assumes the dead man's identity. The Doctor, Ben and Polly are escorted to the colony where the Governor reveals a 200 year old crashed spaceship rescued from the mercury swamp, in which the Doctor finds two inanimate Daleks and evidence that a third Dalek has already been removed. Lesterson, Chief Scientist of the colony, has removed one, reactivating it, and plans to use the Daleks as servants, but rebels trying to overthrow the colony's Governor decide to use them for their own ends. In fact the colony has already been infiltrated by Daleks, who have secretly set up a reproduction plant - on a conveyor-belt system - and plan to exterminate all Humans. But the Doctor finds their power source and turns it against them.






The Doctor: Patrick Troughton
Polly Wright: Anneke Wills
Ben Jackson: Michael Craze

Guest Appearances:
Examiner: Martin King
Quinn: Nicholas Hawtrey
Bragen: Bernard Archard
Lesterson: Robert James
Janley: Pamela Ann Davey
Hensell: Peter Bathurst
Resno: Edward Kelsey
Valmar: Richard Kane
Guard: Peter Forbes-Robertson
Guards: Robert Russell, Robert Luckham
Daleks: Gerald Taylor, Kevin Manser, Robert Jewell, John Scott Martin
Dalek Voice: Peter Hawkins



Producer: Innes Lloyd.
Script Editor: Gerry Davis.
Writer: David Whitaker (with Dennis Spooner, uncredited).
Director: Christopher Barry.
Designer: Derek Dodd.
Costume: Sandra Reid.
Make up: Gillian James.
Music : Tristram Cary (re-use of music from "The daleks").

Novelised as "Doctor Who - The Power of the Daleks" by John Peel (0 426 20390 9) first published by Virgin Publishing Ltd.) in 1993 with cover by Alister Pearson. Target library number 154.
Script Book: "Doctor Who - Power of The Daleks" by David Whitaker (1 85286 327 7) first published by Titan books in 1993 with cover by Alister Pearson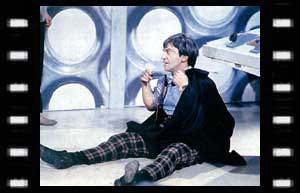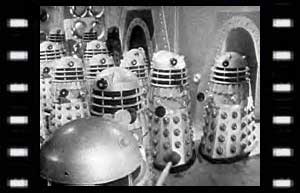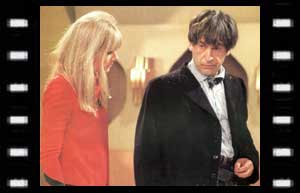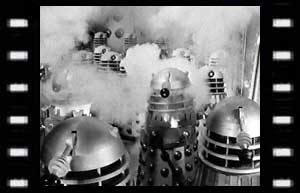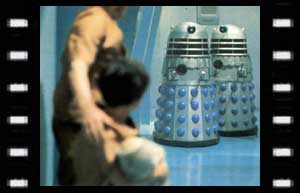 a
Not available on video due to loss of story.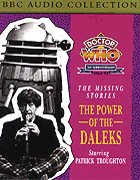 Complete audio soundtrack exists, unreleased. An edited version of these episodes was released by BBC Audio Collection in 1993 as "The Power of the Daleks," (catalogue # ZBBC 1433, ISBN: 0 563 40695 X) with a photomontage cover. and presented by Tom Baker.

Patrick Troughton's debut story, which also features the return of the dreaded Daleks.
Dennis Spooner actually penned the final version of the scripts, but received no onscreen credit.
Anneke Wills and Michael Craze were not in episodes 4 and 5, as both were away on holiday


All six episodes are lost. Limited number of photographic images exist.

Ealing Filming on Stage 2. (26-30 September 1966)
Studio recording in Riverside 1. (22, 29 October; 5, 12, 19, 26 November 1966)


Episode 5 - The fourth Dalek has trouble exiting through the arch.
Episode 5 - This story is another fine demonstration of the art of making four Daleks look like an army by having them circle around the set a few times. Note the delay between the fourth Dalek exiting and the "fifth" Dalek entering.
Episode ? - In another attempt to conceal the chronic Dalek shortage, you can spot the blatant use of photographic blow-ups used in place of real Daleks.