In the year 2070 Hobson and his deputy Benoit command a weather station on the moon. There they operate the Gravitron, a gravity machine which has control over the weather on Earth. When the Doctor arrives he finds that a mysterious disease has broken out. He investigates and, to add a number of other problems - like strange kidnappings and the Gravitron losing coordination - discovers that the Cybermen have landed. They are in fact responsible for the disease and for the Gravitron's peculiar behavior. They plan to operate the Gravitron to destroy the Earth by drastically altering its weather. Polly fights back by spraying the Cybermen with plastic solvents but the main enemy force is rapidly approaching. Suddenly the Doctor realizes that the Cybermen are susceptible to gravity variations - that is why they need humans to operate the Graviton - so by deflecting the machine's action on to the Moon's surface he sends the Cybermen and they ships shooting off into distant Space.

n




The Doctor: Patrick Troughton
Polly Wright: Anneke Wills
Ben Jackson: Michael Craze
Jamie McCrimmon: Frazer Hines

Guest Appearances:
Hobson: Patrick Barr
Benoit: Andre Maranne
Nils: Michael Wolf
Sam: John Rolfe
Dr Evans, Space Control Voice: Alan Rowe
Ralph: Mark Heath
Crew: Barry Ashton, Derek Calder, Arnold Chazen, Leon Maybank, Victor Pemberton, Edward Phillips, Ron Pinnell, Robin Scott, Alan Wells
Cybermen John Wills, Peter Greene, Reg Whitehead, Keith Goodman, Sonnie Willis, Ronald Lee, John Clifford, Barry Noble
Cybermen Voice: Peter Hawkins
Controller Ringberg's Voice: Dennis McCarthy


Producer: Innes Lloyd.
Script Editor: Gerry Davis.
Writer: Kit Pedler, Gerry Davis.
Director: Morris Barry
Designer: Colin Shaw.
Costume: Mary Woods, Daphne Dare.
Make up: Gillian James, Jeanne Richmond.
Music : Stock. (various tracks and composers).
Novelised as "Doctor Who - The Cybermen" by Gerry Davis (0 426 11463 9) first published by Universal Tandem in 1975 with cover by Chris Achilleos. New edition by W.H. Allen (now Virgin Publishing Ltd.) in 1981 with cover by Bill Donohoe. Target library number 14.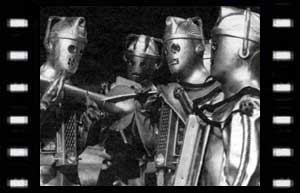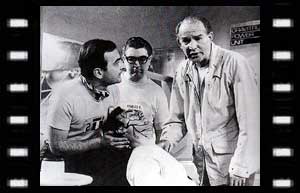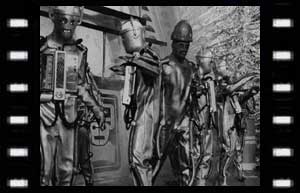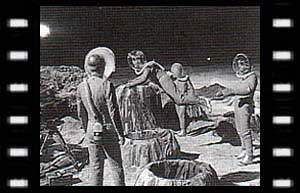 a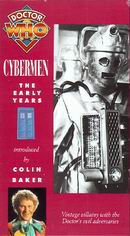 Limited Availability On Video: Episode 2 and 4 included on "Cybermen The Early Years". (BBCV 4813) first released in 1992 with photomontage cover.
.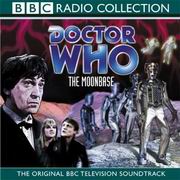 Complete audio soundtrack exists, released by the BBC Radio Collection Released on CD includes linking narration by Frazer Hines, who played Jamie in the story itself. It includes the only surviving versions of episodes 1 and 3, whose film recordings no longer exist in the BBC Television Archives.

Frazer Hines, whose character Jamie was not in the original storyline (due to his sudden addition as a regular), was consigned to unconsciousness for much of the story.
This story features the debut of actor John Levene (in the role of a Cyberman). Levene would go on to become the semi-regular character Sergeant Benton.
Episode 4 saw the first use of an filmed optical effect when an animated laser beam is seen.


Episodes 1 and 3 are lost. Episodes 2 and 4 exist as 16mm telerecordings in the BBC archives, both held by the Film & TV Library when it was audited in 1978. Telesnaps, off-air camera photographs from this story exist in the hands of private collectors.

Ealing filming on Stage 3. (17-20 January 1967)
Studio recording in Riverside 1. (4, 11, 18 February 1967)
Studio recording in Lime Grove D. (25 February 1967)


Episode 2 - When a Cyberman shoots at Polly, he misses, but Polly falls over anyway
Episode 2 - The Cyberman that gets off the bed in the sick-bay nearly sends the whole thing flying.
Episode 4 - After Dr. Evans knocks out the Gravitron operator, he takes his hat and puts it on backwards. Next time we see him, it's on the right way around - demonstrating an admirable amount of fashion sense, despite being infected by a deadly virus.
Episode 4 - The Cybermen blast a hole in the dome. Begging several questions - How can such a powerful laser only make a small hole in the plastic dome? Why does the air get sucked out into space so slowly? Just how long would a flimsy tray hold out against a total vacuum?