The TARDIS is stolen from Gatwick Airport and driven off in a lorry. The Doctor and Jamie follow it to a Victoriana antique shop owned by Edward Waterfield. All three are transported back 199 years to the home of scientist Theodore Maxtible, who, with Waterfield's help, has devised a method of time-travel involving mirrors, static electricity - and the Daleks! The Daleks are holding Waterfield's daughter, Victoria, hostage so he is obliged to cooperate in their plan to bring the Doctor back to 1866. The Daleks want to acquire what they call 'the Human factor' to create an army of super-Daleks. They force the Doctor to run an experiment on Jamie registering every emotion he shows in his attempts to rescue Victoria. The plan backfires as the three experimental Daleks adopt attitudes of playful friendliness instead of Human cunning. All are recalled to Skaro where the Emperor Dalek reveals the true purpose of the experiment. He now plans to inject the Doctor with the 'Dalek factor' which he will take back to Earth, and turn its inhabitants into Dalek-like creatures with the impulse to destroy. The Doctor is passed through a machine for transforming humans into mental Daleks - but remains unaffected, for he is not Human. Instead, he manages to humanize some of the Daleks. Soon civil war erupts on Skaro between humanized Daleks and real Daleks. Maxtible, mentally turned into a Dalek-like creature, is killed; Victoria's father saves the Doctor at the cost of his own life. The travelers depart whilst the war rages on ...






The Doctor: Patrick Troughton
Jamie McCrimmon: Frazer Hines
Victoria Waterfield: Deborah Watling

Guest Appearances:
Bob Hall: Alec Ross
Kennedy: Griffith Davis
Edward Waterfield: John Bailey
Perry: Geoffrey Colville
Daleks: Robert Jewell, Gerald Taylor, Ken Tyllson, John Scott Martin.
Emperor Dalek: Murphy Grumbar
Dalek Voices: Roy Skelton, Peter Hawkins
Mollie Dawson: Jo Rowbottom
Theodore Maxtible: Marius Goring
Ruth Maxtible: Brigit Forsyth
Toby: Windsor Davis
Terrall: Garry Watson
Kemel: Sonny Caldinez



Producer: Innes Lloyd.
Script Editor: Gerry Davis, Peter Bryant.
Writer: David Whitaker.
Director: Derek Martinus, Tim Combe.
Designer: Chris Thompson.
Costume: Sandra Reid.
Make up: Gillian James.
Visual Effects: Michaeljohn Harris.
Music : Dudley Simpson. (played by the Alec Firman Ensemble), and stock ("Youngbeat" By BBC Orchestra, "Nobody Knows The Trouble I've Seen" by the Seakers, and "Paperback Writer" by The Beatles).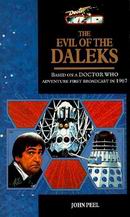 Novelised as "Doctor Who - The Evil of The Daleks" by John Peel (0 426 20389 5) first published by Virgin Publishing Ltd. in 1993 with cover by Alister Pearson. Target library number 155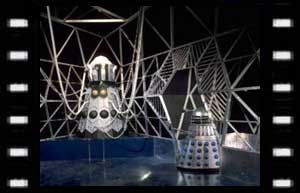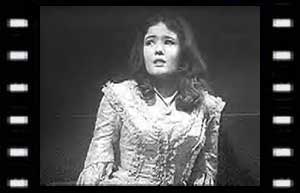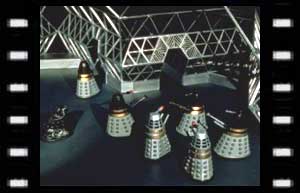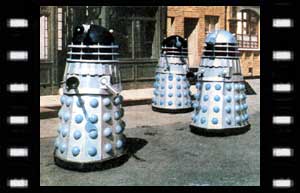 a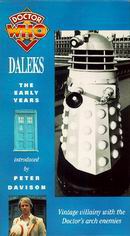 Limited Availability On Video: Episode 2 included on "Daleks - The Early Years" (BBCV 4810) first released in 1992 with photomontage cover.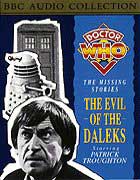 "The Evil of The Daleks" (catalogue number. ZBBC 1303, ISBN: 0563 366834) was released as an edited version on a double-cassette presented by Tom Baker, via the BBC Audio Collection, first published in 1992 with photomontage cover.

This was the last Dalek story until "Day of the Daleks" (KKK) 1972.
The Evil of the Daleks" introduces Deborah Watling as new companion Victoria Waterfield (though she was not the first choice to play the character; actress Denise Buckley was cast, then dropped).
Patrick Troughton and Deborah Watling were on holiday during episode 4 and appear only on pre-filmed inserts.


Episode 2 exists as a 16mm telerecording, as recovered in 1987 from a private sale in England. All other episodes are lost.

Ealing filming on Stage 2. (26-28 April 1967)
Ealing filming on Stage 3A/B. (16-17 May 1967)
Studio recording in Lime Grove D. (13, 20, 27 May; 3, 10, 17, 24 June 1967)
Grim's Dyke House, Old Redding, Harrow-Weald, Middlesex. (20, 24-25 April 1967)
BBC OB and Transport Base, Kendal Avenue. London, W3. (21 April 1967)
Warehouse Lane, off Macfarlane Road, Shepherd's Bush, London, W12. (21 April 1967)


Episode 2 - As the Dalek questions Victoria, you can see a camera lens quickly sneak into the left of the shot and withdraw again just as quickly.
Episode 2 - At one point, Professor Maxtible calls Edward Waterfield "Whitefield".
Episode 7 - Patrick Troughton stutters amusingly when he says: "I wonder what the doo-daleks are d-doing."