A shower of meteorites falls on Essex, England and the Brigadier and his newly recruited scientist Doctor Elizabeth 'Liz' Shaw, from Cambridge, enlist the aid of a physically changed Doctor to investigate the phenomenon. Factory boss Channing is a Nestene - a member of an Alien collective intelligence which colonizes planets by copying native life forms. Nestenes have a special ability to control plastic; Channing is making Autons, plastic mannequins able to fight and kill, controlled by the Nestene consciousness. He has also been making plastic facsimiles of Cabinet ministers to enable him to gain world domination. The Doctor and Liz confronts Channing, and the Doctor is attacked by a huge octopoid creature - the collective being of the Nestenes. With the aid of Liz, they manage to defeat the Nestene as the Autons start on a killing rampage. He agrees to work for UNIT as a scientific advisor in return for facilities to repair the TARDIS, grounded by the Time Lords on 20th Century Earth, help form Liz Shaw, and a sprightly yellow roadster later known as Bessie. The Brigadier agrees and asks the Doctor what his name is. "Smith," replies the Doctor. "Doctor John Smith".
.




The Doctor: Jon Pertwee
Dr. Liz Shaw: Caroline John
Brig. Lethbridge-Stewart: Nicholas Courtney

Guest Appearances:
Channing: Hugh Burden
Seeley: Neil Wilson
Captain Munroe: John Breslin
Dr. Henderson: Antony Webb
Nurse: Helen Dorwood
Mullins: Talfryn Thomas
Corporal Forbes: George Lee
UNIT Personnel: Iain Smith, Tessa Shaw, Ellis Jones
Wagstaffe: Allan Mitchell
Reporter: Prentis Hancock
Ransome: Derek Smee
Hibbert: John Woodnutt
Meg Seeley: Betty Bowden
Scobie: Hamilton Dyce
Dr. Beavis: Henry McCarthy
Soldier: Clifford Cox
Waxworks Attendant: Edmond Bailey
Voice of Dr. Lomax: Ellis Jones


Producer: Derrick Sherwin, Peter Bryant (uncredited).
Script Editor: Terrence Dicks.
Assistant Editor: Trevor Ray (uncredited)
Writer: Robert Holmes.
Director: Derek Martinus.
Designer: Paul Allen.
Costume: Christine Rawlins.
Make up: Cynthia Goodwin.
Visual Effects: John Horton.
Music : Dudley Simpson.

Novelised as "Doctor Who and The Auton Invasion" by Terrence Dicks (0 426 11295 4) first published as "Doctor Who and The Auton Invasion" by Universal Tandem in 1974 with cover by Chris Achilleos. New edition by W.H. Allen (now Virgin Publishing Ltd.) in 1982 with cover by Andrew Skilleter. New edition 1n 1991 with cover by Alister Pearson. Target library number 6.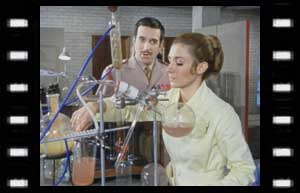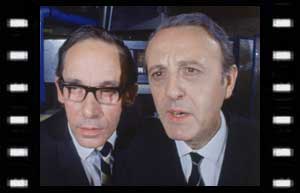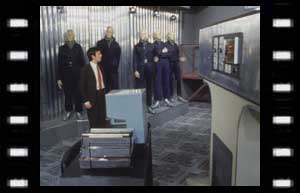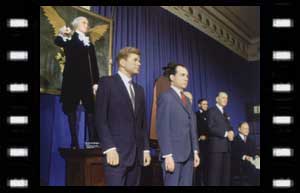 .




a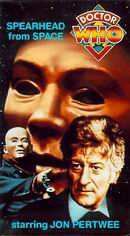 Released as "Spearhead from Space" in the UK February 1988, and in Australia & New Zealand (BBC catalogue #4107). US & Canada release 1991 (CBS/FOX catalogue #5421, reclassified as WHV #E1163). With Photomontage cover.
.

.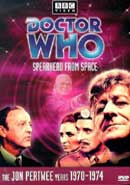 Released in UK, February 2001, and in US & in Canada September 2001 on DVD by BBC.
• Commentary by Actors Nicholas Courtney and Caroline John
• Pop-Up Production Notes Option
• Unit Recruitment Film
• Trailers
• Photo Gallery
• Who's Who

This was the first story made in colour.
In 1997 a fan produced sequel to this story was released on video.


All four episodes exist as 16mm colour film and 16mm black & white film prints, as held by the Film & Videotape Library when audited in 1978.

Ealing filming Exterior. (13-19 September 1969)
Ealing filming Interior. (8-10, 12-17, 20-23, 29-31 October; 3-7, 22 November 1969 - exact dates unknown)
Favourite Doll Factory, Georges Road, Holloway, London, N7. (13 September 1969)
Junction of Euston Road and Midland Road, London, NW1. (13 September 1969)
National Car Parks, Raer of St. Pancras Station, Midland Road, London, NW1. (13 September 1969)
John Sanders Ltd, The Broadway, Ealing, London, W5. (14 September 1969)
Lancaster Road, Ealing, London, W5. (14 September 1969)
High Street, Ealing, London, W5. (14 September 1969)
Royal Horticultural Society, Wisley, Surrey. (15-16 September 1969)
Hatchford Park School, Ockham Lane, Hatchford, Surrey. (17 September 1969)
TCC Condensors, Wales Farm Road, Ealing, London, W3. (18-19 September 1969)
Wood Norton Estate, Eversham, Hereford and Worcestershire. (30 October 1969)
..• Wood Norton Hall. (9-15 October 1969)
..• Duc d'Orleans Bathroom. (12 October 1969)
..• Underground Nuclear Bunker. (8-9, 13-17, 20, 22-23 October 1969)
..• Rose Garden. (14 October 1969)
..• Auxillary Building. (8-14 October 1969)
Mansion House Hotel, Coopers Lane, Eversham, Worcestershire. (23 October 1969)
Wheelbarrow Castle Cottage, Radford, Worcestershire. (23 October 1969)
Madame Tussards, (Great Hall), Marylebone, London, NW1. (5 November 1969)



Episode 1 - The newly-regenerated Jon Pertwee gets off to a good start. As he collapses to the ground in his very first scene, he nearly pulls the left-hand TARDIS door off its hinges!
Episode 1 - In Liz's first scene with the Brigadier, the alleged physics and meteorite expert says, "Most meteorites don't even reach the Earth's surface – they usually burn up in the atmosphere." However, the very definition of a meteorite is a meteor that reaches the Earth's surface.
Episode 1 - When the Brigadier says to Liz, "Since UNIT was formed, there have been two attempts to invade this planet", his voice sounds completely unlike Nicholas Courtney's – in fact, it sounds quite a bit like Jon Pertwee! Either the line was overdubbed by someone else for some reason, or something strange happened to the sound on the master recording at that point.
Episode 1, 2 - The Doctor supposedly has the TARDIS key tightly clenched in his hand during the kidnap attempt and subsequent shooting. However, he is shown operating the wheelchair with open hands, and he claps his right hand (the one in which he put the key in the hospital) to his forehead on being shot, with no sign of the key being there.
Episode 2 - When the Doctor arrives at UNIT HQ, he blusters his way past the commissionaire (Derrick Sherwin). In the brief shot of him saying the line "And I'm not going to tell you my name, either!" the movement of his lips completely fails to match the words he's saying.
Episode 2 - Immediately after the previous blooper, the commissionaire phones the Brigadier, saying that the visitor hasn't got a pass and won't reveal his name. But on the phone the Brigadier can be heard saying "The Doctor? Send him up!" Does the Brig have Time Lord telepathy?
Episode 3 - When the dog is barking at Sam's house and is abruptly silenced (apparently by an Auton), the sound is obviously not a dog barking. It sounds a bit like a man pretending to be a dog, but whatever it is, the attempt at sounding like a dog is laughable at best.
Episode 3 - When Mrs. Seeley confronts the Auton and it turns to face her, there's a big close-up of it where you can see the actor's right eye blinking behind the Auton mask.
Episode 4 - During one of the scenes at Madame Tussauds, one of the female "waxworks" forgets to remain still: you can see her look up and then look down again.
Episode 4 - The famous montage of the Auton rampage in the high street contains two different shots of people *starting* to run from the bus stop after the Autons fire on them – first from behind, and then from in front.