Seven months after leaving Mars, the Probe 7 ship has still not returned to Earth and a Recovery 7 rocket is dispatched to investigate. Recovery 7 returns to Earth but, after landing the astronauts are kidnapped by men masquerading as UNIT forces. Liz shaw notices the ship's Geiger counter is at maximum; the crew would normally have been killed by radiation. The Doctor is convinced the crew are not Human. He makes a solo space mission and finds the real astronauts held aboard a large alien spaceship. The captain of the alien ship asks for the return of his 'ambassadors' or he will destroy the planet. The three recaptured aliens are exchanged.
.



The Doctor: Jon Pertwee
Dr. Liz Shaw: Caroline John
Brig. Lethbridge-Stewart: Nicholas Courtney
Sergeant Benton: John Levene

Guest Appearances:
Tiltalian: Robert Cawdron
Van Lyden: Ric Felgate
Ralph Cornish: Ronald Allen
John Wakefield: Michael Wisher
Miss Rutherford: Cheryl Molineaux
Carrington: John Abineri
Grey: Ray Armstrong
Collinson: Robert Robertson
Dobson: Juan Moreno
Champion: James Haswell
Control Room Ast.: Bernard Martin
Quinlan: Dallas Cavell
Astronauts: Steve Peters, Neville Simons
Heldorf: Gordon Sterne
Reegan: William Dysart
Lennox: Cyril Shaps
Masters: John Lord
Soldier: Max Faulkner
Fir Joanna Ross
Second Assistant: Carl Conway
Astronaut: Ric Felgate
Parker: James Clayton
Alien: Peter Noel Cook
Alien Voice: Peter Halliday
Michaels: Neville Simons
Lefee: Steve Peters
Johnson: Geoffrey Beevers
Peterson: Roy Scammell
Flynn: Tony Harwood
.

Producer: Barry Letts.
Script Editor: Terrence Dicks.
Assistant Editor: Robin Squire (uncredited)
Writer: David Whitaker, Malcolm Hulke (episode 2-7), Trevor Ray (episode 1)
Director: Michael Ferguson.
Designer: David Myerscough-Jones.
Costume: Christine Rawlins.
Make up: Marion Richards.
Visual Effects: Peter Day, Ian Scones.
Music : Dudley Simpson.
.
Novelised as "Doctor Who - The Ambassadors of Death" by Terrence Dicks (0 426 2035 4) first published by W.H. Allen (now Virgin Publishing Ltd.) in 1987 with cover by Tony Masero. New edition 1n 1991 with cover by Alister Pearson. Target library number 121.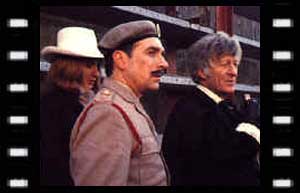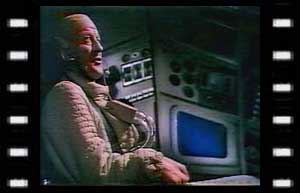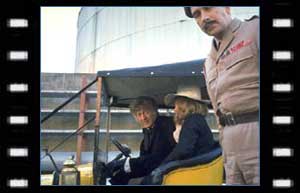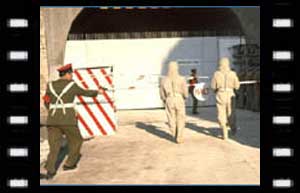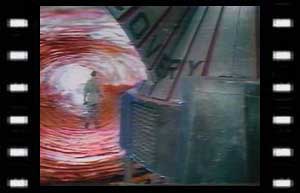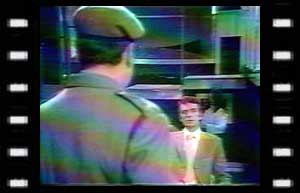 a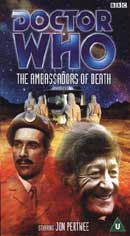 Released as "The Ambassadors of Death" in the UK 20 May 2002, and in Australia & New Zealand (BBC catalogue #7265). Not yet released in US & Canada. Released in episodic format, in color and black and white, Photomontage cover.

Episode five saw the first appearance of Sergeant Benton in a regular role within the UNIT organisation.


All seven episodes exist as 16mm black & white telerecordings and episode one also exists on PAL 2" color videotape. The B&W film prints were recovered from BBC Enterprises in 1978. Color restorations of episodes 5 and 6 have been completed. Faults in the color signal are too great to allow recolorization of episodes 2-4 and 7. Although recolorized, Episode 6 has color faults and is considered unbroadcastable. Manual computer-aided recolorization of these episodes is currently too cost-prohibitive.

Studio recording in Studio TC1. (27 March 1970)
Studio recording in Studio TC3. 13, 20, 27 February; 6, 13 March 1970)
Studio recording in Studio TC4. (20 March 1970)
Southall Gas Works, White Street, Southall, Middlesex. (26-27 January 1970)
White Street, Southall, Middlesex. (27 January 1970)
TCC Condensors (BBC), Wales Farm Road, Ealing, London, W3. (28 January 1970)
Claycart Bottom, off Rushmoor Road, Aldershot, Hampshire. (30 January 1970)
Puckeridge Hill Road Bridge, Basingstoke Canal, Aldershot, Hampshire. (30 January 1970)
Royal Engineers Driving Circuit, Farnborough Airfield, Aldershot, Hampshire. (31 January 1970)
Wycombe Air Park, Clay Lane, High Wycombe, Buckinghamshire. (29 January 1970)
Folly's Gravel Pit, Spade Oak, Little Marlow, Buckinghamshire. (23 January 1970)
Gossmore Lane, Marlow, Buckinghamshire. (29 January 1970)
Marlow Weir, Mill Road, Marlow, Buckinghamshire. (29 January 1970)
Beacon Hill, Beacon Hill Road, near Ewshot, Hampshire. (2 February 1970)
Little Marlow Sewage Treatment Works, Church Road, Little Marlow, Buckinghamshire. (23 January 1970)
Blue Circle Cement Works, Northfleet, Kent. (3-4 February 1970)


Episode 1 - Watch the scene where Van Lyden is sitting in the spaceship, as viewed on the monitor screen at space control. Van Lyden says "changing attitude of capsule", and the image on the screen rotates. But if the camera was in the spaceship, surely the camera image shouldn't change, since the camera would be attached to the spaceship?
Episode 1, 7 - In episode 1, we see a matte shot of the launch control room, which you'll notice has a rather high ceiling. At the very end of episode 7, we see another shot of the same room – but suddenly it has the same roof as the rocket launch site seen in episode 5.
Episode 1 - When the Doctor asks the controller to get Taltalian to cooperate, a screen rises out of the desk with Taltalian's face projected on it. This is obviously done using CSO because later when the screen retracts down into the desk, the image of Taltalian doesn't move with the screen!
Episode 2 - When the Brigadier is about to climb aboard the truck carrying Recovery 7, he supposedly gives orders to the motorcycle outriders. He gestures off-camera and says, "Keep to the prepared route and clear the way ahead of us". However, Nicholas Courtney's eyes are looking completely away from where he's gesturing – clearly there's no-one actually in front of him (except the camera crew). Then he looks behind him and adds, "You bring up the rear" before climbing into the cabin, whereupon the camera shows there's no-one behind him either!
Episode 3 - An alien tosses Reegan into the corner of their storage cell, and the corner pillar of the cell wobbles very badly. Then, Lennox is chased up the stairs by the alien, Reegan is knocked away, the alien starts to collapse and Reegan jumps to get out of his way, bumping into a "brick" wall which also shakes in a most un-brick-like way.
Episode 4 - Listen out for Taltalian's amazing metamorphing accent in his car when he confronts Liz.
Episode 4 - The guard (stuntman Max Faulkner) who is killed by the Ambassador at the main gate in episode 4 reappears alive and well in episode 6!
Episode 4 - Quinlan's office safe slips about as the alien tries to open the door.
Episode 5 - At the beginning of this episode, the walls of Quinlan's office seem very flimsy when the UNIT soldier is killed by the alien, and also when the Brigadier rattles the handle of the door which has been fused shut by the alien.
Episode 5 - When Reegan is sabotaging the fuel bay, there is a sign misspelling M3 Variant as "Varient".
Episode 7 - When the Doctor transmits the SOS code, Benton recognises it before he hears the entire message.
Episode 7 - When the Doctor goes up in the rocket to dock with the Mars probe, he tells the space station controller that he can withstand more G-force than normal people, so they can use more M3 fuel to make the trip faster. The controller declines, saying that the risk of the rocket exploding is too great – however, later on when the Doctor is trying to transport the aliens back to their ship on board a rocket, he suggests using pure M3 fuel as the ambassadors will not be affected by G-force. Why is there no more concern about the rocket exploding?
Episode ? - Recovery 7's nose cone changes colour between scenes.