A crisis develops on a top secret drilling project - Inferno - which aims to penetrate the Earth's crust and releases a new energy source to be called Stahlman's Gas, named after Professor Stahlman, in charge of Inferno. The drilling pipes are leaking a green liquid which, on contact with Human Skin, transforms its victims into vicious primeval ape like creatures called Primords. The Doctor is transported by accident into a parallel world, where England is ruled by a military dictatorship and Inferno is about to destroy the planet. Thwarted by his friend's counterparts on this parallel world, the Doctor is powerless to stop the destruction of the planet but manages to escape and return to Earth. There, he overcomes the power crazed Professor Stahlman, who becomes Primord and threatens to unleash the full forces of the Earth's core. Inferno is stopped in time and Earth is saved.
.
.




The Doctor: Jon Pertwee
Dr. Liz Shaw: Caroline John
Brig. Lethbridge-Stewart: Nicholas Courtney
Sergeant Benton: John Levene

Guest Appearances:
Prof. Stahlman: Olaf Pooley
Sir Gold:Christopher Benjamin
Bromley: Ian Fairbairn
Slocum: Walter Randall
Petra Williams: Shelia Dunn
Greg Sutton: Derek Newark
Latimer: David Simeon
Wyatt: Derek Ware
Sentry: Roy Scammell
Patterson: Keith James
Primords: Dave Carter, Pat Gorman, Philip Ryan, Peter Thompson, Walter Henry
.


Producer: Barry Letts.
Script Editor: Terrence Dicks.
Assistant Editor: Robin Squire (uncredited)
Writer: Don Houghton
Director: Douglas Camfield, Barry Letts (episodes 3-7).
Designer: Jeremy Davies.
Costume: Christine Rawlins.
Make up: Marion Richards.
Visual Effects: Len Hutton.
Music : Stock.
.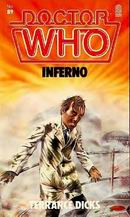 Novelised as "Doctor Who - Inferno" by Terrence Dicks (0 426 19617 1) first published by W.H. Allen (now Virgin Publishing Ltd.) in 1984 with cover by Nick Spender. Target library number 89.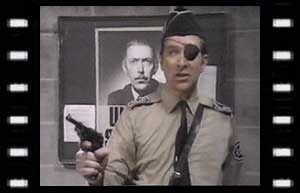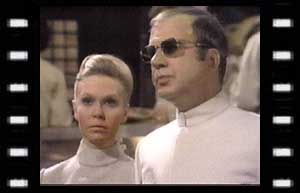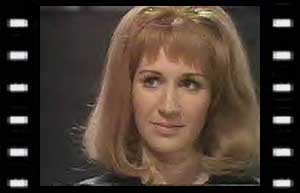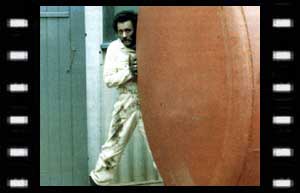 .



a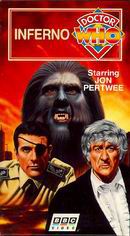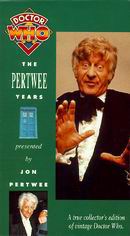 Released as "Inferno" May 1994 in the UK and Australia & New Zealand (BBC catalogue #5269); US & Canada release 1995 (CBS/FOX catalogue #8292, reclassified as WHV #E1298). Cover art by Colin Howard. Episode 7 was also released on "The Pertwee Years" (BBC catalogue #4756 in the UK in March 1992, Australia & New Zealand, CBS/FOX catalogue #5732 in US & Canada (1992).

This was the last story to feature the original TARDIS console, as introduced in 1963.
After original director Douglas Camfield had a reaction to new heart medication, Barry Letts directed the studio work for episodes 3-7 (uncredited).
The video release included an extra scene cut from the original UK transmission, with Pertwee impersonating the voice of Lord Haw Haw the radio announcer, it was felt that viewers at the time would recognize Pertwee's voice.


All seven episodes exist as both 16mm black & white telerecordings, as recovered from BBC Enterprises in 1978, and PAL conversions of NTSC 2" color videotape as recovered from TV Ontario in Canada in 1985.

Ealing filming on Stage 2. (6-8 April 1970)
Studio recording in TC3. (23-24 April; 6-8, 29 May 1970)
Studio recording in TC6. (21-22 May 1970)
Berry Wiggins and Co Ltd, Hoo St. Werburgh, Kent. (31March, 1-3April 1970)


Episode 1 - A rather stylish quick cut, from Harry Slocum about to smash a technician's head in with a wrench to Benton hammering a nail into a wall, is unfortunately marred when the wall wobbles noticeably under Benton's hammer-strokes.
Episode 1-7 - This is a general problem throughout the story: Bessie's wheels are completely clean and dry inside the Doctor's hut, whereas the ground outside is clearly wet and muddy.
Episode 1 - Look at the "Nuclear Power Output" gauge in the TARDIS laboratory: "megavolts" is mis-spelt as "Megga Volts".
Episode 2 - The first person to be turned into a monster by the primeval ooze is supposed to be red-hot (as are they all) – in fact, when he dies lying against a wall, the paint is blistered and burnt by the heat from his body. Yet his clothes remain completely undamaged, not even slightly bursting into flame!
Episode 3 - Section Leader Elizabeth Shaw's wig changes noticeably between the exterior and interior scenes.
Episode 3 - During one particular scene in the alternate universe, Professor Stahlman calls Lethbridge-Stewart "Brigadier" instead of "Brigade Leader".
Episode 3 - As the Doctor escapes from the Brigade Leader's office, he runs past one of the control consoles, which is complete with that extra little orange-coloured panel that was used in episodes 1 and 2 to control the flow of power to the Doctor's experiments. What's this thing doing in the parallel universe, since the Doctor doesn't exist there?
Episode 3-5 - Jon Pertwee repeatedly mispronounces "continuum" as "continny-um".
Episode 6 - At the end of this episode, the Doctor's floppy bow tie is untied – but when he rematerialises in our dimension, his tie is tied!
Episode 7 - The Earth's crust is on average 25 miles thick, and the drilling went on for roughly 60 hours (we see the countdown timer in episode 1). Since the countdown was halted with 35 seconds to go, if we assume a constant drilling rate, that means the drill would have been about 20 feet from breaking through to the Earth's mantle when it was stopped. The problem is – shouldn't the huge pressures which exist in the mantle break through that scant few feet of rock by itself and cause the destruction of the Earth regardless?