The TARDIS materializes on the North Sea and the travelers use a rubber dingy to reach the shore. The crew are then knocked out by tranquillizer darts after attempting to open an inspection plate on a pipeline, that the Doctor claims to have heard a strange beating in. The Doctor and his companions awake to find themselves suspected of sabotage at a North Sea gas refinery of the east coast of England. The refinery boss, Robson, blames them for the disappearance of rig crews, and leaks and pressure build-ups in the pipelines. The Doctor reports strange 'heartbeats' from the pipelines but Robson refuses to halt the gas flow. The noises come from a form of parasitic seaweed, which absorbs Human brains and transforms men into Weed creatures. The Weed, exhaling toxic gases, launches an attack on the refinery, but after Victoria's screaming kills one, the Doctor realizes that the creatures can be destroyed by high-frequency sound waves. After having killed all the creatures, the Doctor is ready to go on but Victoria decides to remain at the refinery and ia adopted by the Harrises.





The Doctor: Patrick Troughton
Jamie McCrimmon: Frazer Hines
Victoria Waterfield: Deborah Watling

Guest Appearances:
Robson: Victor Madden
Harris: Roy Spencer
Price: Graham Leaman
Guard: Peter Ducrow
Maggie Harris: June Murphy
Carney: John Garvin
Chief Engineer: Hubert Rees
Van Lutyens: John Abineri
Baxter: Richard Mayes
Quill: Bill Burridge
Oak John Gill
Megan Jones: Margaret John
Perkins: Brian Callingford


Producer: Peter Bryant.
Script Editor: Derek Sherwin.
Writer: Victor Pemberton.
Director: Hugh David.
Designer: Peter Kindred.
Costume: Martin Baugh.
Make up: Sylvia James.
Visual Effects: Peter Day, Len Hutton.
Music : Dudley Simpson.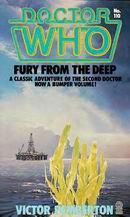 Novelised as "Doctor Who - Fury From The Deep by Victor Pemberton (0 426 20259 7) first published by W.H. Allen (now Virgin Publishing Ltd.) in 1986 with cover by David McAllister. Also published in "The Doctor Who Omnibus" by Book Club Associates in 1977. Target library number 110.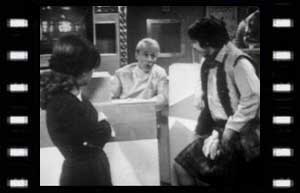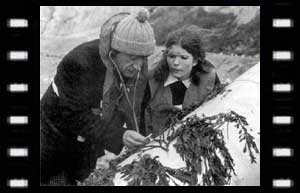 a
Not availabile on video due to loss fo story.a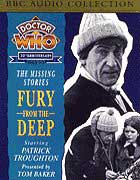 Released in 1992 as "Fury From The Deep" as a double-cassette. (catalogue number ZBBC 1434, ISBN: 0563 401079) presented by Tom Baker, via the BBC Audio Collection. First released in 1993 with photomontage cover.

Features the final appearance of Deborah Watling and the debut of the long-used sonic screwdriver.


All six episodes are missing. Telesnaps (off-air camera photographs) from this story exist in the BBC Archives. Several short clips from episodes 2, 4 and 5 were recovered after being located in Australia in October 1996

Ealing filming on Stage 3A/B. (7-9 February 1968)
Ealing filming, Stage Unkonwn. (5-6 March 1968)
Studio Recording Lime Grove D1. (24 February; 2, 9, 16, 23, March 1968)
Studio Recording TC1. (29 March 1968)
Botony Bay, Kingsgate, Kent. (4-6 February 1968)
Radio 390 Offshore Platform, Red Sands Sea Fort, Thames Estuary. (4-6 February 1968)
Denham Aerodrome, Tilehouse Lane, Denham Green, Bucks. (12 February 1968)


None Noted