The scene is London 2167. The Daleks have invaded Earth, making many thousands of inhabitants into Robomen - Human Dalek servants - by clamping metal control helmets to their heads. Other slaves have been shipped to Bedfordshire, where the Daleks have a vast mining complex; they have discovered a fissure in the Earth's inner shell, through which they aim to remove the planet's core and replace it with a magnetic power system, so they can pilot Earth anywhere in the Universe. The Doctor and Ian are captured by Robomen and taken to the Dalek Supreme, the Black Dalek, who tries to change the Doctor into a Roboman, strapping him to an operating table in the Robotizer Chamber of a Dalek flying saucer parked at Chelsea Heliport. The rest of the TARDIS crew escape from London and head for the mining fields, where Ian confronts the Slyther, the Daleks' man eating pet. Susan and a freedom fighter named David Campbell manage to gain entry into the complex and destroy the Daleks' radio network. No longer under the Daleks' control, the Robomen and the Slaves are encouraged by the Doctor to rise against their inhuman masters. A bomb is detonated, which destroys the Daleks and their craft. Earth is now safe and Susan, who has fallen in love with David Campbell, decides to stay behind.





The Doctor: William Hartnell
Ian Chesterton: William Russell
Barbara Wright: Jacqueline Hill
Susan Foreman: Carole Ann Ford

Guest Appearances:
Carl Tyler: Bernard Kay
David Campbell: Peter Fraser
Dortmun: Alan Judd
Robomen: Martyn Huntley, Peter Badger, Reg Tyler, Bill Moss
Rebel: Robert Aldous
Daleks: Robert Jewell, Gerald Taylor, Nick Evans,Kevin Manser, Peter Murphy
Dalek Voices: Peter Hawkins
David Graham
Jenny: Ann Davis
Craddock: Michael Goldie
Thompson: Michael Davis
Baker: Richard McNeff
Larry Madison: Graham Rigby
Wells: Nicholas Smith
Slyther: Nick Evans
Ashton: Patrick O'Connell
Women: Jean Conroy, Meriel Hobson


Producer: Verity Lambert,
Assistant Producer: Mervyn Pinfield
Script Editor: David Whitaker
Writer: Terry Nation.
Director: Richard Martin.
Designer: Spencer Chapman.
Costume: Daphne Dare.
Make up: Sonia Markham, Tony Pearce.
Music: Francis Chagrin.


a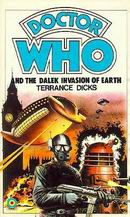 Novelized as "Doctor Who - The Dalek Invasion of Earth" by Terrence Dicks (0 426 11244 X) first published by W.H. Allen (now Virgin Publishing Ltd.) in 1977 with cover by Chris Achilleos. New edition in 1990 with cover by Alister Pearson. Target library number 17. Also reprinted in "Doctor Who - The Dalek Omnibus" in 1983 with cover by Andrew Skilleter.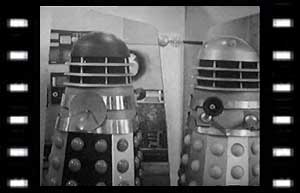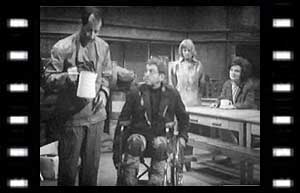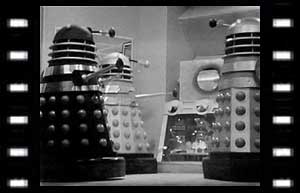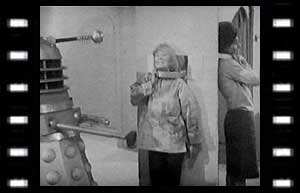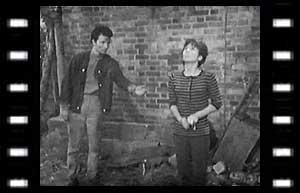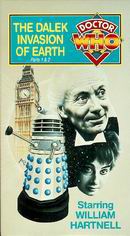 Released as "The Dalek Invasion of Earth" in UK May 1990 and in Australia and New Zealand (BBC catalogue #4353). Released in US and Canada in 1994 (CBS/FOX catalogue #5947) with cover art by Alister Pearson in episodic format, as a two-tape set. The video release has the "Next Episode" caption deleted from "Flashpoint".

William Hartnell is absent from part four due to an injury does not appear in "The End of Tomorrow," though his stand-in Edmund Warwick does.
The departure of Carole Ann Ford at the end of part six sees the first regular cast change.

All episodes exist as 16mm telerecordings, including "The Waking Ally" which was already held by the Film & TV library as of 1978 on 35mm Negative film prints of all six episodes were recovered from BBC Enterprises circa 1978.

Ealing filming. (28 August 1964)
Studio recording in Riverside 1. (18,25 September; 2, 9, 16, 23 October 1964)
Hammersmith Bridge, Queen Caroline Street, Hammersmith, London, W6. (27 August 1964)
Butlers Wharf, Southwark, London SE1. (date unknown)
Warehouse, St. Katherines Dock, London, E1. (25 August 1964)
Irongate Wharf, St. Katherines Way, London E1. (date unknown)
White City Underground Station (Metropolitan Line), Wood lane, Shepard's Bush, London, W12. (25 August 1964)
Albert Embankment, London, SE11. (23 August 1964)
Westminster Bridge, Westminster, London, SW1. (23 August 1964)
Whitehall, London, SW1. (23 August 1964)
Trafalgar Square, London, SW1. (23 August 1964)
Royal Albert Hall, Kensington Gore, Kensington, London, SW7. (23 August 1964)
Albert Memorial, Kensington, London, SW7. (23 August 1964)
Palace of Industry, Engineers Way, Wembley, Middlesex. (23 August 1964)
John's Hole Quarry, Stone, Kent. (28 August 1964)
Third Way, Wembley, Middlesex. (23 August 1964)

Episode 3 - In one scene, when London is supposed to be abandoned, you can clearly see a truck driving calmly by in the background.
Episode 6 - When the rebels ambush the Dalek passing through the door, the Dalek's eyestalk is looking straight at them as it enters, but it quickly turns away to allow the rebels catch it by "surprise".
Episode 6 - As the Doctor unlocks the TARDIS door, listen for the faint sound of a Dalek screeching in the background. (Apparently this is an audio problem which arose during duplication of the original master tape).
Episode 6 - The Dalek's reason for invading Earth is because of Earth's magnetic core, which they claim "no other planet has". Planets with magnetic cores are now considered commonplace, with all the planets in our solar system possessing one, for starters.
Episode ? - During the attack on the Dalek saucer, a Dalek is pushed down the ramp, falls over and lies still. In the next shot the head of the Dalek is pointing in another direction.
Episode ? - Listen out for the Black Dalek clearing its throat before making a speech.
Episode ? - Nice to see that pleasure boats still sail along the river Thames, even after ten years of Dalek occupation!