The TARDIS materialises in Victorian London, where a series of murders are committed by the Chinese Tong of the Black Scorpion, led by Weng Chiang. Weng Chiang is in reality Magnus Greel, a war criminal from the future, whose time experiments backfire and whose body needs the energy of others to survive. Victims are provided by Greel's servant, Li H'sen Chang, who performs as a magician in a local theatre managed by the boisterous Henry Gordon Jago. The Doctor finds Weng Chiang's lair in the sewers under the theatre but is chased away by a rat mutated to giant size by Greel. Meanwhile, Li H'sen Chang's men have located the long lost time cabinet of Weng Chiang in the hands of one of the Doctor's friends, Professor Litefoot. Li H'sen Chang fails in his mission to kill the Doctor and recover the Cabinet and is dismissed by Greel. With the help of his Homunculus, Mr Sin, Weng Chiang recaptures the cabinet, and the Doctor's friends with it. A dying Li H'sen Chang (he was attacked by Greel's giant rat) gives the address of Weng Chiang's new refuge to the Doctor. Greel dies a victim of his own life absorbing equipment and Mr Sin is disconnected by the Doctor.

.




The Doctor: Tom Baker
Leela: Lousie Jameson

Guest Appearances:
Henry Gordon Jago: Christopher Benjamin
Professor Litefoot: Trevor Baxter
Mr Sin: Deep Roy:
Li H'Sen Chang: John Bennett
Casey: Chris Gannon
Ho: Vincent Wong
Sergeant Kyle: David McKail
PC Quick: Conrad Asquith
Lee: Tony Then
Buller: Alan Butler
Coolie: John Wu
Ghoul: Patsy Smart
Weng-Chiang/Magnus Greel: Michael Spice
Teresa: Judith Lloyd
Cleaning Woman: Vaune Craig-Raymond
Singer Lottie Randall: Penny Lister
Giant Rat: Stuart Fell




Producer: Phillip Hinchcliffe
Script Editor: Robert Holmes
Writer: Louis Marks
Director: David Maloney
Designer: Roger Murray-Leach
Costume: James Acheson
Make up: Jan Harrison
Visual Effects: Ian Scoones
Music: Dudley Simpson
..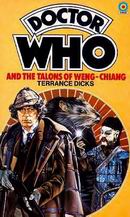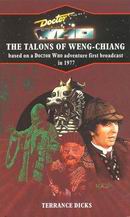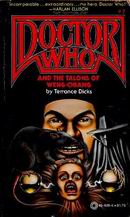 Novelized as "Doctor Who and The Talons of Weng Chiang" by Terrance Dicks (0 426 11973 8) first published by W H Allen (now Virgin Publishing Ltd) in 1977 with cover by Jeff Cummins. New edition published as "Doctor Who and the Talons of Weng Chiang" in 1994 with cover by Alister Pearson. Target library number 61.


Published in America, September 1979 by Pinnacle Books (0 523 40638 X). It was number 7 in their series. Later reprinted for a second time in September 1979 and the final seventh time in April 1989 (1 55817 209 2).

Titan Books published "Doctor Who - The Scripts - The Talons of Weng-Chiang" (1 85286 144 4) in November 1989. The book was edited by John McElroy and the cover art by Duncan Fegredo. This was the only Fourth Doctor script book published by Titan.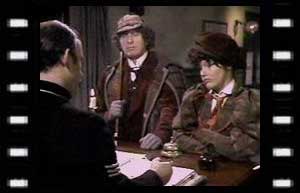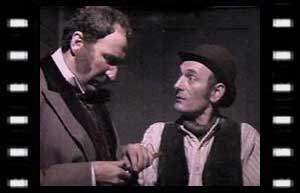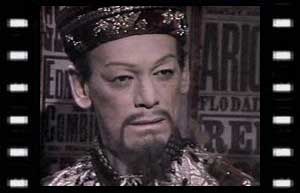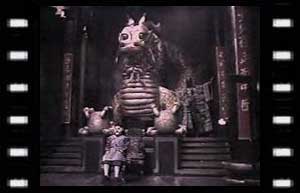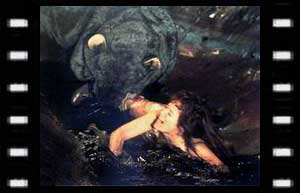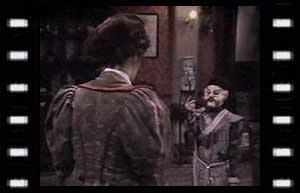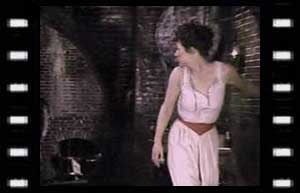 .
.


a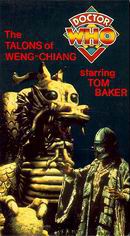 Released as "The Talons Of Weng-Chiang", November 1988, in in omnibus format (BBCV 4187). Released in Us and Canada (Warner cat.# E1153) with photomontage cover.



There is a cameo appearance by Dudley Simpson, the series' incidental music composer. He appears as the orchestra conductor at the Palace Theatre.
BBC2 series "The Lively Arts" broadcast a feature on the making of this story, the day after the last episode aired. 3rd April 1977

All four episodes exist in color on videotape.

Studio recording in unknown studio. (24-25 January; 8-10 February 1977)
Northampton Repertory Theatre, Swan Street, Northampton. (9-11January 1977)
St. Crispin's Hospital, Duston, Northampton. (12-13 January 1977)
Empty Rates Office, Fish Street, Northampton. (8 January 1977)
Wapping Pier Head, Wapping High Street, London, E1. (16 December 1976)
Clink Street, London, SE1. (14 December 1976)
St. Mary Overy's Wharf, Cathedral Street, Southwark, London, E1. (13-14 December 1976)
East Dock/Centre Basin, St. Katherine's Dock, East Smithfield, London, E1. (17 December 1976)
Ivory House, St. Katherine's Dock, East Smithfield, London, E1. (17 December 1976)
Bankside, Southwark, London, E1. (14 December 1976)
Bridewell Place, Wapping, E1. (16 December 1976)
Broad Oak, 24 Cambridge Park, Twickenham, Middlesex. (15 December 1976)


Episode 1 - When the Doctor and Leela leave the TARDIS, the door is open and is not moving. They walk away from the TARDIS for a few seconds. When they hear the attack and run past the TARDIS again, the door is magically closed.
Episode 1 - Keep your eyes peeled for the 1970's newspaper sitting in Litefoot's laundry basket.
Episode 6 - While the Doctor is unconscious as a result of the Dragon Ray, he says to Litefoot and Jago: "There's a one eyed yellow idol to the North of Khatmandu. There's a little marble cross below the town."
"Kipling?", Litefoot asks. "Harry Champion, 1920", replies the Doctor. However... I have it on good authority that it was a certain J.Milton Hayes who wrote those lines.
Episode ? - Magnus Greel puts Leela in the distillation chamber and switches it on. Cue red lights, bad effects, and Leela writhing about. Then the Doctor arrives and throws a battleaxe into the works. Sparks fly, and the machine stops, presumably broken. Later, however, Greel is pushed into the chamber, whereupon it turns on and does its thing just as if nothing had happened to it. Oh, and the axe disappears too.
Episode ? - Watch out for the modern electrical sockets on the walls of Litefoot's lab (they're covered with masking tape, but not very well!)