Back on 20th century Earth Sarah finds a fossilized hand. It is in fact the hand of Eldrad, a Kastrian criminal executed by his own race. Eldrad's hand forces Sarah to go inside a nuclear research station, where it regenerates itself by absorbing the energy released in an explosion. To save Earth from Eldrad's powers, the Doctor is forced to take him back to Kastria. But in the 150 million year interval since Eldrad's execution Kastria's civilisation has ended. Eldrad attempts to regenerate his race but fails because of the measures taken centuries ago by King Rokon as a precaution against Eldrad's possible return. The Doctor and Sarah leave Kastria, abandoning Eldrad to his solitary fate. The Doctor receives a telepathic summons from Gallifrey and much to her dismay has to say goodbye to Sarah.





The Doctor: Tom Baker
Sarah Jane Smith: Elisabeth Sladen

Guest Appearances:
Zazzka: Roy Pattison
Rokon: Roy Skelton
Abbott: David Purcell
Untem: Renu Setna
Dr. Carter: Rex Robinson
Guard: Robin Hargrave
Professor Watson: Glyn Houston
Miss Jackson: Frances Pidgeon
Driscoll: Roy Boyd
Elgin: John Cannon
Eldrad: Judith Paris, Stephen Thorne
Hospital Nurse: Libby Ritchie
Technicians: Derek Suthem, John Delieu
Security Guards: Barry Summerford, Michael Dewild
Frozen Kastrian: Peter Roy

Producer: Phillip Hinchcliffe
Script Editor: Robert Holmes
Writer: Bob Baker, Dave Martin
Director: Lennie Mayne
Designer: Christine Ruscoe
Costume: Barbara Lane
Make up: Judy Neame
Visual Effects: Colin Mapson
Music: Dudley Simpson
.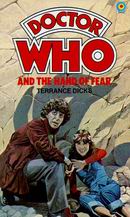 Novelized as "Doctor Who and the Hand of Fear" by Terrance Dicks (0 426 20033 0) first published by W H Allen (now Virgin Publishing Ltd) in 1979 with cover by Roy Knipe. Target library number 30.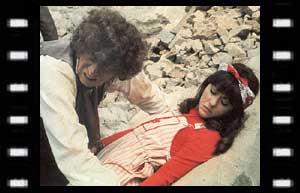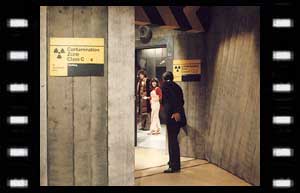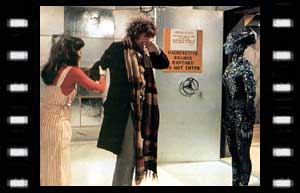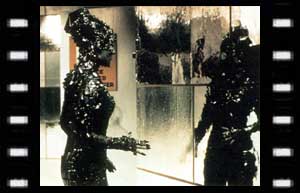 .
.


a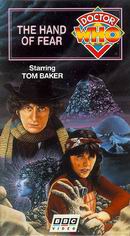 Released as "The Hand of Fear" in episodic format, February 1996, (BBCV 5789).
Released in US and Canada by CBS/FOX (8459), Re-released by Warner video (E1351)
with cover art by Colin Howard.

Elisabeth Sladen's last regular appearance as Sarah Jane Smith. She would return to the part in the 1981 special "K9 and Company", the 20th anniversary special "The Five Doctors" in 1983 and the Children in Need special "Dimensions in Time" in 1993. She would also take part in the two BBC Radio productions "The Paradise of Death" and "The Ghosts of N-Space" alongside Jon Pertwee.

All four episodes exist in color on videotape.

Studio recording in Stage TC8. (5-7, 19-20 July 1976)
Cromhill Quarry, Cromhill, Wotton-under-Edge, Gloucestershire. (14-15 June 1976)
Oldbury Power Station, Oldbury Naite, Thornbury, Gloucestershire. (16-17 June 1976)
Stokefield Close, Thornbury, Gloucestershire. (17 June 1976)


Episode 1, 2 - When the hand is seen crawling about the floor (CSOed onto the background) the shadow it casts is often going in the wrong direction.
Episode 3 - During the missile attack, the sky is cloudy when viewed from the ground, but the stock footage of RAF planes shows a clear sky.
Episode 4 - When the Doctor is setting the trap for Eldrad with his scarf, he bumps into one of the large polystyrene rocks, which wobbles quite amusingly.
Episode 4 - Eldrad jumps his cue and interrupts Sarah while she and the Doctor are having an aside. This happens just after they discover that Rokon (king of Castria) has in fact been dead for a long time. The exchange goes like this:
Sarah: "But we saw him... he spoke!"
The Doctor: "A recording from the past. The king obviously knew there was a chance that Eldrad would return."
Sarah's reply is supposed to be "The booby traps!", but Eldrad is too busy blithering on about being robbed of his destiny in the background. Sarah waits politely, then delivers her line.
Episode 4 - After Eldrad sees the recorded message from Rokon, he gets ever so slightly annoyed and starts stomping round the room as he makes a speech which starts "Is this my reward?". As he does so, you can just make out the dark outline of a BBC camera through the doorway behind Sarah. If you're in any doubt that it's a camera, immediately afterwards we cut to a shot of the Doctor and Sarah from that angle.