The TARDIS materializes on a navigation beacon far out in space. A group of space pirates, using explosives, breaks up the beacon into its constituent parts in an attempt to steal it. The Doctor and his companions are separated from the TARDIS, which is on a part of the beacon the pirates manage to steal. The Interplanetary Space Corps Cruiser, V41, led by Commander General Nicolai Hermack, abandons the ship's current mission and investigate the thefts, convinced that the thief is an innocent yet eccentric space mining pioneer named Milo Clancey. Milo joins forces with the Doctor, and the TARDIS crew hide on the planet Ta. Here dwells Cavern, a notorious space criminal in league with the space pirates, and responsible for the thefts. He is assisted by Madeleine, daughter of his ex-partner Dom Issigri, who is now Cavern's captive. Madeleine reveals to the Doctor that she is part of the pirate organization, but horrified by the murder of Sorba, stops Cavern from killing the others and assists them in Cavern arrest. As the repentant Madeleine is sent back to Earth to be put on trial, Clancey gives the travelers a ride back to the TARDIS which is orbiting Lobos in one of the segments of the Alpha Four beacon.
.
.




The Doctor: Patrick Troughton
Jamie McCrimmon: Frazer Hines
Zoe Heriot: Wendy Padbury

Guest Appearances:
Dervish: Brian Peck
Cavern: Dudley Foster
Hermack: Jack May
Warne: Donald Gee
Penn: George Penn
Sorba: Nik Zaran
Guard: Anthony Donovan
Milo Clancey: Gordon Gostelow
Madeleine: Lisa Daniely
Guard: Steve Peters
Dom Issigri: Esmond Knight
.

Producer: Peter Bryant.
Script Editor: Derrick Sherwin.
Writer: Robert Holmes.
Director: Michael Hart.
Designer: Ian Watson.
Costume: Nicholas Bullen.
Make up: Sylvia James.
Visual Effects: John Wood.
Music : Dudley Simpson. (Vocal: Mary Thomas)
.



.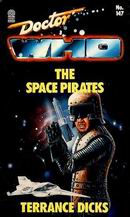 Novelised as "Doctor Who - The Space Pirates by Terrence Dicks (0 426 20346 1) first published by W.H. Allen (now Virgin Publishing Ltd.) in 1990 with cover by Tony Clark. Target library number 147.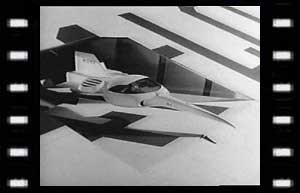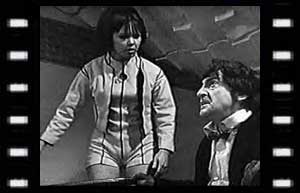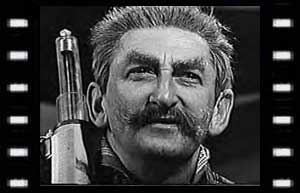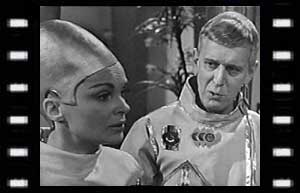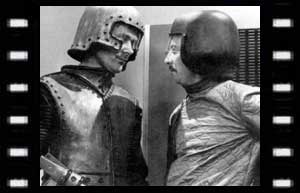 a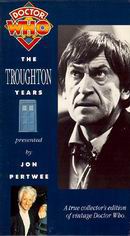 Limited availability on video: Released on Episode 2 included on "The Troughton Years" (BBCV 4609 & CBS/FOX catalog #3402) first released in 1991 with photomontage cover.

"The Space Pirates" was a replacement for another story dropped from this season at a late stage. ("The Dream Spinner" by Paul Wheeler.
Patrick Troughton, Frazer Hines and Wendy Padbury were all away on location filming "The War Games" during the production of episode six and appear only in pre-filmed inserts.
Jack May was better known as Nelson Gabriel in Radio 4 soap opera "The Archers".


All episodes except for Episode 2 are missing. Episode 2 exists as a 35mm telerecording as held by the Film & TV library when it was audited in 1978

Ealing filming Studio Stage 2. (7, 10-14, 19 February 1969)
Studio recording in Lime Grove D. (21, 28 February; 7, 14, 21, 28 March 1969)


Episode 2 - When General Hermack gets coffee for himself, it's obvious that he's pretending as nothing emerges from the machine!
Episode 2 - When the Doctor, Jamie and Zoe wake up and the Doctor asks "What's that noise?", suddenly there's a totally out-of-place close-up of Zoe looking like she's crying, for no apparent reason!
Episode 3, 4 - Tthe cliffhanger to episode 3 (as the Doctor and company fall off a cliff), their screams can be heard for several seconds, but at the start of episode 4, we can see that they've only fallen a few feet.