The Doctor, back in 20th-Century London, calls at the home of his friend Professor Travers, but finds that he has let it to a computer scientist, Professor Watkins, and his niece Isobel. Watkins has disappeared - last heard of at International Electromatics, the major supplier of the world's computers. The Doctor visits the firm and distrusts the managing director, Tobias Vaughan. So does Brigadier Lethbridge-Stewart of the newly formed UNIT (United Nations Intelligence Taskforce). Zoe and Isobel are captured by Vaughan, who is forcing Watkins to develop the Ceberation Mentor, the purpose of which is to generate emotional impulses. The Doctor discovers Vaughan is in the employ of the Cybermen - but to late. The Cybermen manages to paralyze Earth's population and launch an invasion through the sewers, in which their troops had been previously hidden by Vaughan's men. With Zoe's assistance, British missiles destroy the Cyberman invasion fleet. The Cybermen then turn on Vaughan and announce their intention of wiping out life on Earth with a megatron bomb. With the help of the Ceberation Mentor, which induces madness in the Cybermen, a now reformed Vaughan helps the Doctor and UNIT destroy the radio beacon guiding the Cybership, but is killed in the process. The ship is finally destroyed by a Russian Rocket.






The Doctor: Patrick Troughton
Jamie McCrimmon: Frazer Hines
Zoe Heriot: Wendy Padbury
Brig. Lethbridge-Stewart: Nicholas Courtney
Sergeant Benton: John Levene

Guest Appearances:
Lorry Driver: Murray Evans
Patrol Man: Walter Randell
Isobel Watkins: Sally Faulkner
Tracy: Geoffrey Cheshire
Tobias Vaughan: Kevin Stoney
Packer: Peter Halliday
Professor Watkins: Edward Burnham
Gregory: Ian Fairbairn
Sergeant Walters: James Thornhill
Captain Turner: Robert Sidaway
Operator: Shelia Dunn
Rutlidge: Edward Dentith
Workman: Peter Thompson
Policeman: Dominic Allan
Perkins: Stacy Davies
Branwell: Clifford Earl
Peters: Norman Hartley
Cybermen: Pat Gorman, Ralph Carrigan, Charles Finch, Richard King, John Spradbury, Peter Thornton
Cyber Dir. Voice: Peter Halliday

.

Producer: Peter Bryant.
Script Editor: Terrence Dicks.
Writer: Derrick Sherwin (From a story by Kit Pedler).
Director: Douglas Camfield.
Designer: Richard Hunt.
Costume: Bobi Bartlett.
Make up: Sylvia James.
Visual Effects: Bill King and 'Trading Post'
Music : Don Harper. (John Baker provided the muzak playing in Vaughn's offices; other musical strings provided by Brian Hodgson).

.


.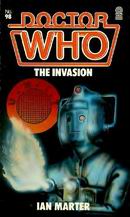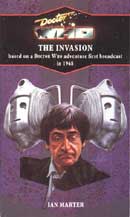 Novelised as "Doctor Who - The Invasion" by Ian Marter (0 426 120169 8) first published by W.H. Allen (now Virgin Publishing Ltd.) in 1985 with cover by Andrew Skilleter. New edition in 1993 with cover by Alister Pearson. Target library number 98.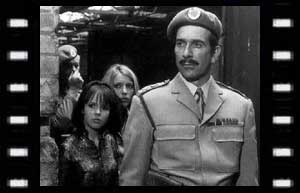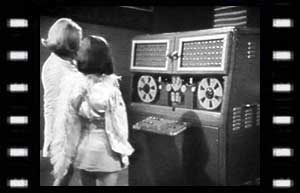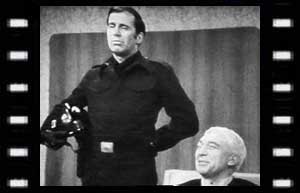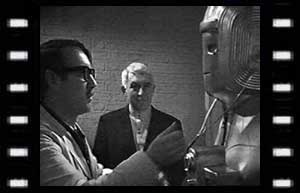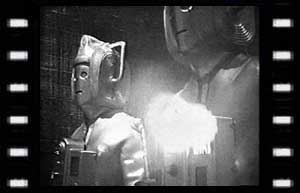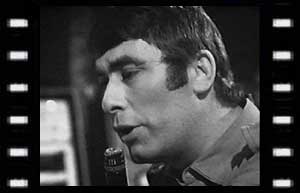 a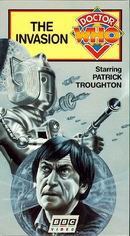 Released on Video as "The Invasion" (BBCV 4472) first released in June 1993 with cover by Andrew Skilleter. Also released in Australia/New Zealand (BBC catalog #4974) as a two-tape set; and in US/Canada [1995] (CBS/FOX catalog #8251) as a single tape. The tape includes six episodes along with a linking narration provided by Nicholas Courtney for the two missing episodes.

This is the first UNIT story, and the last Cybermen story until "Revenge of The Cybermen (4D)" in 1975. Wendy Padbury was on holiday during the filming of part four and does not appear; Frazer Hines was also on vacation during episode eight's taping, but appears on a pre-taped segment.


Episodes one and four are missing. All six other episodes exist as 16mm telerecordings, though episode six is slightly edited, missing only some material with Vaughn and Watkins.

Ealing filming Studio Stage unknown.(13 September 1968)
Studio recording in Lime Grove D. (20, 27 September; 4, 11, 18, 25 October; 1, 8 September 1968)
Model filming in unknown location. (31 August 1968)
RAF Fairford, Fairford, Gloucestershire. (3 September 1968)
Williamstrip Farm, Coln St. Aldwyns, Gloucestershire. (3 September 1968)
Hatherop Road, Colnb St. Aldwyn, Gloucestershire. (4 September 1968)
Kingston Minerals, Kempsford Road, Kempsford, Gloucestershire. (5 September 1968)
Associated British Maltsters, Wallingford, Oxfordshire. (6 September 1968)
18 St. James' Gardens, Kensington, London, NW11. (11 September 1968)
Knightrider Street, London, EC4. (8 September 1968)
Moor Lane, London, EC2. (8 September 1968)
Distaff Lane, London, EC4. (8 September 1968)
St. Nicholas Cole Abby, Queen Victoria Street, London, EC4. (8 September 1968)
Queen Victoria Street, London, EC4. (8 September 1968)
Fore Street, London, EC2. (8 September 1968)
TCC Condensors, Wales Farm Road, Ealing, London, W3. (9, 10 12 September 1968)
Princedale Road, Notting Hill, London, NW11. (11 September 1968)
Heathfield Street, Notting Hill, London, NW11. (11 September 1968)
Walmer Road, Notting Hill, London, NW11. (11 September 1968)
Millbank Tower, Millbank, London, SW1. (7 September 1968)
Guinness Brewery, Park Royal, Acton, London, NW10. (11 September 1968)
Maida Hill Tunnel, Regent's Canal, Lisson Grove, London, NW8. (13 September 1968)
Cumberland Terrace, Regent's Park, London, NW1. (8 September 1968)
St. Paul's Churchyard, London, EC4. (8 September 1968)
Australia House, Strand, London, WC2. (8 September 1968)
Denham Aerodrome, Tilehouse Lane, Denham Green, Buckinghamshire. (date unknown)


Episode 3 - In one scene, Zoe mispronounces 'integer' -- using a hard 'G' instead of a soft 'J'.
Episode 3 - When Packer is sent to see Professor Watkins, he gets into the lift and pushes the button for the 3rd floor. Later, the Doctor and Jamie escape while being led to the professor, and flee into the lift. When the Doctor tries to sabotage it, Jamie complains "but we're 6 floors up!", and Packer confirms a few minutes later that they are indeed on the 6th floor, so obviously that's where the professor is.
Episode 3 - When Jamie and the Doctor are climbing up the lift shaft to escape from the I.E. henchmen, look at the cables behind them. Considering they're supposed to be holding up a lift, the cables look worryingly loose.
Episode 5 - After Vaughan has consulted with the Cyber Controller, he sits down and talks to Packer. Look behind Vaughan at this point and you'll notice that the panel concealing the Cyber Controller has an awful lot of trouble closing.
Episode 7, 8 - Why exactly do Cybermen need lace-up shoes? (You can see them in close-up while they're marching through the streets of London.)
Episode 8 - The Cyberman falling from the roof is plainly just an empty costume.
Episode ? - When the Cyberman comes out of the box (when they try to use the Professor's machine on him), part of the fabric gets stuck to him. The camera switches to a view of his back, and you can see the fabric being pulled away.