The TARDIS rematerializes on the planet Dulkis, threatened by the two occupants, Probationer Toba and Navigator Rago of the alien race, the Dominators who with their deadly robot servants, the Quarks, have secretly landed on an island. The Dulcians are pacifists and cannot retaliate. They ignore the Doctor's warning and some of them are captured. The Doctor discovers the Dominators' plan; to fire rockets down bore holes, causing an eruption of the molten core planet. They will then drop an atomic seed capsule down a bore hole, turning Dulkis into a radioactive mass, thus converting it into fuel for the Dominators' space fleet. Jamie and Cully, the rebellious son of Dulkis's leader, Director Senex, become impatient and destroy a Quark. The Doctor and Zoe are captured by the Dominators and taken to the Dominators' ship, along with the Dulcians. The Doctor intercepts the seed capsule as it is dropped and conceals it in the Dominators' flag ship just before it takes off. The ship is then destroyed in an atomic blast in the air when the seed device is activated. Back in the TARDIS the Doctor is forced to move quickly as they are in the path of a lava flow. . .





The Doctor: Patrick Troughton
Jamie McCrimmon: Frazer Hines
Zoe Heriot: Wendy Padbury

Guest Appearances:
Rago: Ronald Allen
Toba: Kenneth Ives
Cully: Arthur Cox
Wahed: Phillip Voss
Etnin: Malcolm Terris
Tolata: Nicolette Pendrell
Kando: Felicity Gibson
Teel: Giles Block
Balan: Johnson Bayly
Senex: Walter Fitzgerald
Council Members: Ronald Mansell, John Cross, Malcolm Watson, Aubrey Danvers-Walker
Bovem: Allan Gerrard
Tensa: Brian Cant
Quarks: John Hicks, Gary Smith, Freddie Wilson
Quark Voices: Shelia Grant


Producer: Peter Bryant.
Script Editor: Derrick Sherwin.
Writer: Norman Ashby (pseudonym, Mervyn Haisman and Henry Lincoln).
Director: Morris Barry.
Designer: Barry Newberry.
Costume: Martin Baugh.
Make up: Sylvia James.
Visual Effects: Ron Oates.
Music : None.


.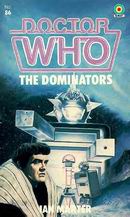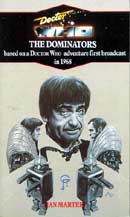 Novelised as "Doctor Who - The Dominators" by Ian Marter (0 426 19553 1) first published by W.H. Allen (now Virgin Publishing Ltd.) in 1984 with cover by Andrew Skilleter. New edition in 1991 with cover by Alister Pearson. Target library number 86.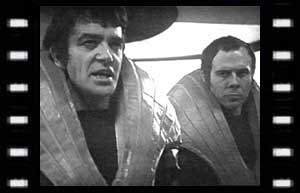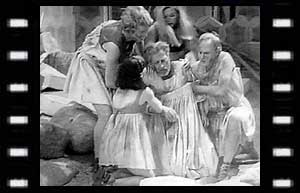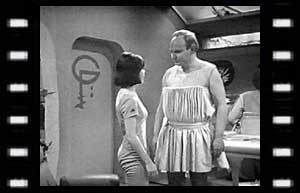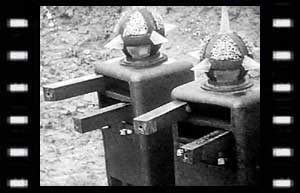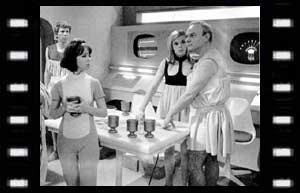 a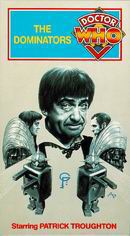 First released in the UK, Sept 1990 and in Australia and New Zealand (BBC catalogue #4406). Also released in US and Canada in 1994, (CBS/FOX catalogue #8141) with cover by Alister Pearson.

Originally commissioned as a six-part story, "The Dominators" suffered a major re-write and was reduced down to five episodes by script editor Derrick Sherwin due to the late arriving scripts.
Authors Mervyn Haisman and Henry Lincoln requested their names be removed from the scripts and used the pseudonym Norman Ashby.
Ronald Allen would later go on to become famous for his role as David Hunter in long running soap-opera "Crossroads".


All the episodes exist as 16mm telerecordings except for episode 3 which is a 35mm telerecording. All but episode 3 were held by the Film & TV Library when audited in 1978.

Ealing filming on Stage 2. (30 April - 1 May 1968)
Studio Stage 2, Studio recording in TC3. (31 May; 14 June 1968)
Studio Stage 2, Studio recording in TC4. (17, 24 May 1968)
Model filming in Puppet Theatre. (26 April 1968)
Olley (Wrotham) Sand Pit, Trottiscliffe, Kent. (25 April 1968)
Gerrard's Cross Sand and Gravel Quarry, Wapsey's Wood, Oxford Road, Gerrard's Cross, Buckinghamshire. (28 April 1968)


Episode 2, 3, 5 - The zip on the back of Zoe's Dulcian costume causes her quite a bit of trouble, as it comes undone on more than one occasion (for example, when the survey headquarters is being destroyed by the Quarks).
Episode 2, 4, - Toba proclaims on two separate occasions that the Dominators are "masters of the ten galaxies", but while taking over the Dulcian council, Rago more modestly claims that the Dominators "control an entire galaxy".
Episode 3 - There is no "Episode 3" caption at the beginning of this episode.
Episode 4 - As Jamie and Cully try to get out of the bomb shelter, the rubble which was blocking the hatch suddenly vanishes as they climb out.
Episode 5 - As the Doctor runs towards the Dominators' spacecraft to plant the atomic "bomb" on board, the camera strays a little too close and the face of Patrick Troughton's stunt double can clearly be seen.