The Master, another renegade Time Lord, materializes in his TARDIS disguised as a horse-box at Rossini's Circus. The Master hypnotizes Luigi Rossini, the circus owner whose real name is Lew Russell, and has him steal a Nestene energy unit from a museum, where it is on loan from UNIT. In UNIT headquarters, the Doctor is introduced to his new assistant Josephine 'Jo' Grant, who is the replacement for the departed Dr. Liz Shaw - who had returned to Cambridge. The Master reactivates the Nestene energy unit, by using the Ministry of Technology's radio dishes to contact the Nestene Consciousness. Warned of the Master's presence by another Time Lord, the Doctor and his new assistant, Jo Grant, realize that, with the Master's help, the Nestenes are planning a new invasion, using the Autons. The Doctor thwarts all the plans of the Nestenes, including the lethal use, under Nestene control, of a plastic flower. The Master, to save his own life, helps the Doctor prevent the materialization of the Nestene Monster. He then escapes to fight another day.
.
.




The Doctor: Jon Pertwee
Jo Grant: Katy Manning
Brig. Lethbridge-Stewart: Nicholas Courtney
Captain Yates: Richard Franklin
Sergeant Benton: John Levene

Guest Appearances:
The Master: Roger Delgado
Rossini: John Bascomb
Museum Attendant: Dave Carter
Prof. Phillips: Christopher Burgess
Goodge: Andrew Staines
Radiotelescope Dir.: Frank Mills
Time Lord: David Garth
Rex Farrel: Michael Wisher
McDermott: Harry Towb
Mrs. Farrel: Barbara Leake
Farrel Sr: Stephen Jack
Strong Man: Roy Stewart
Autons: Terry Walsh, Pat Gorman
Auton Voice: Hayden Jones
Brownrose.: Dermot Tuohy
Telephone Man; Norman Stanley
Troll Doll: Tommy Reynolds
Soldier: Les Conrad
Daffodil Men/Autons: Les Clarke, Bob Blaine, Ian Elliott, Charles Pickless, Mike Stevens, Nick Hobbs, Tom O'Leary
.
.


Producer: Barry Letts.
Script Editor: Terrence Dicks.
Writer: Robert Holmes.
Director: Barry Letts.
Designer: Ian Watson.
Costume: Ken Trew.
Make up: Jan Harrison.
Visual Effects: Michaeljohn Harris.
Music : Dudley Simpson.
.
.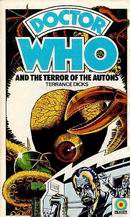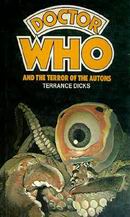 Novelised as "Doctor Who and The Terror of The Autons" by Terrence Dicks (0 426 11500 7) first published by Universal Tandem in 1975 with cover by Peter Brookes. New Edition by W. H. Allen (now Virgin Publishing Ltd.) in 1979 with cover by Alun Hood. Target library number 63.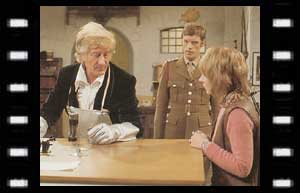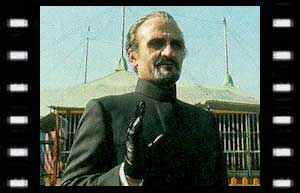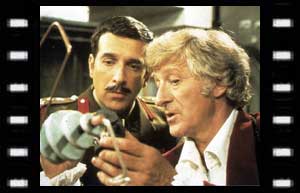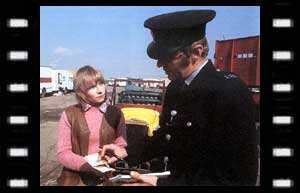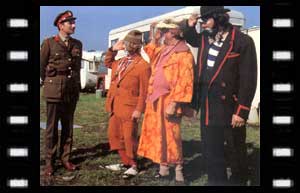 .


a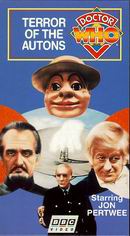 Released as "Terror of the Autons" in the UK (May 1994) and in Australia & New Zealand (BBC catalogue #4957). US & Canada release 1995, (CBS/FOX catalogue #8254, reclassified as WHV #E1276). Cover art by Alister Pearson.

This is the first story in which the Master appears.
The Doctor reveals that his TARDIS uses a MKI dematerialisation circuit while the Master's TARDIS uses the newer MKII.
The part of Jo Grant was awarded to Katy Manning, the other actresses considered for the role included: Yutte Stensgaard, Anoushka Hemple, Skakira Batsh and Julia Chambers


All four episodes exist currently as both PAL D3/NTSC U-Matic color restorations and 16mm black & white telerecordings.

Studio recording in TC6. (23-24 September 1970)
Studio recording in TC8. (9-10 September 1970)
St Peter's Court, Chalfont St Peter, Buckinghamshire. (17 September 1970)
Car Park, Church Lane, Chalfont St Peter, Buckinghamshire. (17 September 1970)
Hodgemoor Woods, Chalfont St. Giles, Buckinghamshire. (17 September 1970)
Queen's Wharf, Queen Caroline Street, Hammersmith, London, W6. (17 September 1970)
Roberts Brothers Circus, Lea Bridge Road, Leyton, London, E10. (18 September 1970)
Totternhoe Lime and Stone Quarry Co Ltd, , Totternhoe, Dunstable, Bedfordshire. (21 September 1970)
GPO Relay Station, Zouches Farm, Caddington, Buckinghamshire. (22-23 September 1970)
Thermo Plastics Ltd, Luton Road, Dunstable, Bedfordshire. (23 September 1970)


Episode 1 - In his very first scene, the Master manage to click his fingers while wearing leather gloves?
Episode 1, 2 - The left-hand TARDIS door is ajar for practically the entire story, and there are several shots in the first two episodes where we can see completely inside the police box, revealing all too clearly that it's just an empty shell.
Episode 1 - When the Master hypnotises Jo in Farrell's office, he asks her who went to the radio telescope. Jo replies "Myself, the Brigadier and the Doctor". What happened to Mike Yates?
Episode 2 - Jon Pertwee steals Richard Franklin's lines out from under him during the following exchange:
Yates: "But I understood that under hypnosis, it was impossible for..."
Doctor: "You thought that under hypnosis... [embarrassed pause] it was impossible for a subject to be... [another pause] persuaded to do anything that was against his nature?"
Episode 3 - As the Doctor and Jo run away from the Auton policemen, Katy Manning can be seen to trip over, with a loud "Ooof!".
Episode 3 - When Jo is attacked by the killer doll, we see her jump up from the bench near the window and quickly retreat towards the window. But as she later tells the Doctor, when the doll attacked her she was on the phone – which is on the other side of the room, near the door.
Episode 3 - After shooting the killer doll, Mike Yates tells the Doctor that he went to "fetch some cocoa". The Doctor's reply: "Fetch a tin of what?"