The Time Lords send the Doctor, Sarah and Harry to the planet Skard at a time when the war between Thals and Kaleds is reaching its final stage. The Doctor's mission is to prevent the birth of the dreaded Daleks who evolved out of this war. Hunted by both sides in a war torn world, the Doctor eventually becomes the prisoner of Davros, the brilliant crippled Kaled scientist. Davros has invented a travel machine to house the creature into which the Kaleds, genetically mutated by centuries of warfare, will eventually evolve. But Davros is obsessed by his own creation and is giving it destructive powers and a ruthless intelligence which were not part of the original design. These travel machines are destined to become the Daleks! The Doctor helps to lead a revolt of Kaled scientists, horrified by what Davros is doing. But Davros in his determination to preserve the Daleks, helps the Thals to destroy his own people with a super missile. Then he uses the Daleks, now fully operational, first to wipe out the Thal City, then to destroy those remaining Kaleds who oppose him. Some Thals survive. The Doctor manages to entomb Davros in the fortified bunker which has become his final refuge. Here the Daleks turn on Davros, destroying their creator. The Doctor refuses to destroy the Daleks when he has the chance on the grounds that it would be genocide; he says that even from the Daleks a greater good will eventually emerge. Whisked away from Skaro by the Time Lords, the travellers disappear.
.




The Doctor: Tom Baker
Sarah Jane Smith:Elisabeth Sladen
Harry Sullivan: Ian Marter

Guest Appearances:
Davros: Micheal Wisher
Daleks: John Scott Martin, Max Faulkner, Keith Ashley, Cy Town
Dalek voices: Roy Skelton
Nyder: Peter Miles
Ravon: Guy Siner
Gharman: Dennis Chinnery
Kaled Leader: Richard Reeves
Time Lord: John Franklyn-Robbins
Sevrin: Stephen Yardley
Ronson: James Garbutt
Tane: Drew Wood
Gerrill: Jeremy Chandler
Thal Soldiers: Pat Gorman, Hilary Minster, John Gleeson
Kravos: Andrew Johns
Kaled Guard: Peter Mantle
Bettan: Harriet Philpin
Thal Guard: Max Faulkner
Thal Politition: Micheal Lynch
Morgan: Ivor Roberts
Kavell: Tom Georgeson
.


Producer: Phillip Hinchcliffe
Script Editor: Robert Holmes
Writer: Terry Nation
Director: Divid Maloney
Designer: David Spode
Costume: Barbara Kidd
Make up: Sylvia James
Visual Effects: Peter Day
Music: Dudley Simpson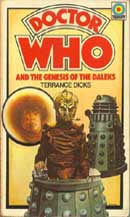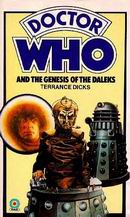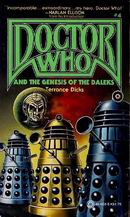 Novelized as "Doctor Who and the Genesis of the Daleks" by Terrance Dicks (0 426 11260 1) first published in July 1976 by Tandem, with cover art by Chris Achilleos. Reprinted by W H Allen (now Virgin Publishing Ltd) in 1976. Released in 1991 by Virgin and retitled "Doctor Who - Genesis of the Daleks" with cover by Alister Pearson. Target library number 56.
Pinnacle Books published a version for the American market in May 1979. Number four in their series of 10. Reprinted several times up until 1989 with minor alterations to the cover. Cover art by David Mann.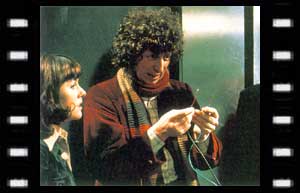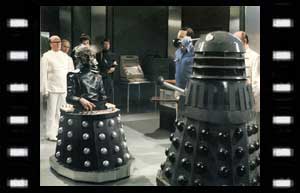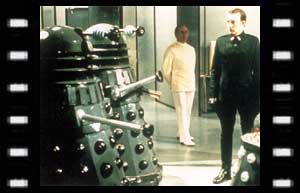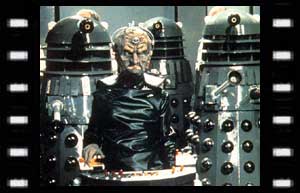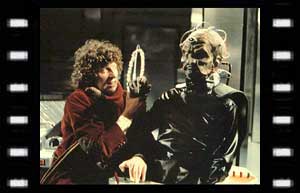 .
.


a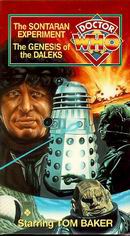 "The Genesis of the Daleks" (BBCV catalogue # 4244) first released in 1989 with photomontage cover in episodic format. Uncut edition (BBCV catalogue # 5218) released in 1994. Released in box set with "The Ark in Space." as a double tape in episodic format (BBCV 4643 E1201)

.


a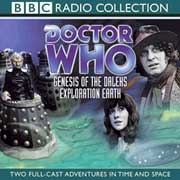 Released as a 2 Disc CD "The Genesis of the Daleks" with "Exploration Earth" (0 563 47857 8) July 2001

Working title for this story was "Genesis of Terror"
This was the first story to feature Davros.
Part Two has a freeze frame ending; the first use of this device.


All four episodes exist in color on videotape.

Betchworth Quarry, Pebblehill Road, Betchworth, Surrey. (7-9 January 1975)


Episode 1-6 - Credibility is stretched when we are asked to believe that a thousand-year unwinnable war has been fought between two cities within walking distance of each other, especially when the Doctor et. al. are able to sneak in and out of both cities at will!
Episode 4 - When Gharman is hit over the head by Nyder, listen to the squeak he makes!
Episode 6 - In more than one scene, the Daleks' voice-lights are totally out of sync with their speech as they talk to Davros.
Episode 6 - The Doctor enters the Dalek incubation chamber wearing a short red jacket and no hat. He emerges wearing a long brown overcoat, and has somehow recovered his hat (last seen in episode 1).
(Furthermore, he is still wearing this costume at the end of the story when he, Sarah Jane and Harry use the time ring to proceed to Nerva Beacon. But once they arrive at the beacon at the start of Revenge of the Cybermen, the Doctor's long brown overcoat suddenly disappears -- to be replaced by, you guessed it, his short red jacket!)