Susan Foreman, 15, is the Doctor's granddaughter and goes to Coal Hill School, London. Two teachers, Ian Chesterton and Barbara Wright, go to investigate her home background. 'Home' appears to be a police box, located in a junkyard at 76 Totter's Lane. This police box is in fact a TARDIS (Time And Relative Dimensions In Space), the Doctor's dimensionally transcendental spaceship, which plunges them all back to the Earth of 10,000 BC. They are captured by a tribe which has lost the secret of fire. Two leaders, Kal and Za, are involved in a power struggle. Ian makes fire for Za by rubbing two sticks together, but Za does not allow the time-travelers to leave as promised. By a clever trick the Doctor and his companions escape to the TARDIS now stuck in the shape of a police box because of its faulty Chameleon circuit.

.




The Doctor: William Hartnell
Ian Chesterton: William Russell
Barbara Wright: Jacqueline Hill
Susan Foreman: Carole Ann Ford

Guest Appearances:
Za: Derek Newark
Hur: Alethea Charlton
Kal: Jeremy Young
Horg: Howard Lang
Old Mother: Eileen Way
.



Producer: Verity Lambert
Assistant Producer: Mervyn Pinfield
Script Editor: David Whitaker
Writer: Anthony Coburn, (Additional material by C.E. Weber)
Director: Waris Hussein
Designer: Barry Newberry, Peter Brachacki (episode 1)
Costume: Maureen Heneghan
Make up: Elizabeth Blattner
Music: Norman Kay and Stock. ("The Three Guitars Mood 2" by The Arthur Nelson Group)
.


a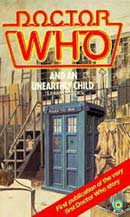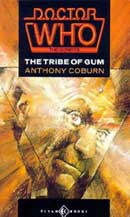 Novelised by Terrance Dicks as "Doctor Who and An
Unearthly Child" (0 426 201442) first published by W.H Allen (now Virgin publishing Ltd in 1981 with cover by Andrew Skilleter, (Target #68). New printing in 1990 with cover by Alister Pearson.
Also released as "The Tribe of Gum" script book by Anthony Coburn, from Titan Books, (185286012X) first published in
1988 with cover by Dave McKean. Edited by John McElroy.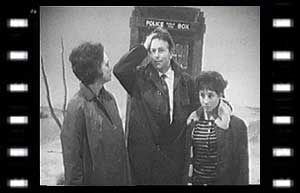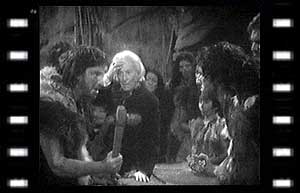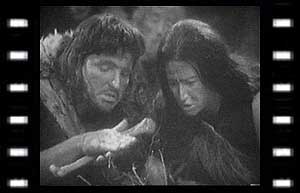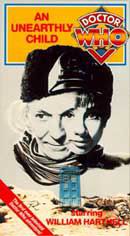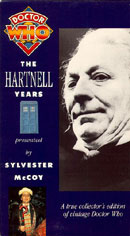 Released as "An Unearthly Child" in UK (February 1990), in Australia and New Zealand (BBC catalogue #4311); Released in US and Canada in 1992 (CBS/FOX catalogue #3401); in episodic format, cover art by Alister Pearson. The pilot (version 2) was released on "The Hartnell Years" (BBC catalogue #4608 in UK (June 1991), in Australia and New Zealand ( CBS/FOX catalog #3403). Released in US and Canada (1992).
A further, remastered version containing all three takes released on "The Edge of Destruction & Dr. Who: The Original Pilot" in UK (April 2000), also in Australia and New Zealand (BBC catalogue #6877). Released in US and Canada, October 2000 (Warner Video catalogue #E1497).

In this first story the Doctor seems very much the anti-hero, and is portrayed as a tetchy, selfish old man.
The working title for this story was "The Tribe Of Gum". Although this story is titled "An Unearthly Child", it is frequently referred as "10,000 BC".
The first episode was repeated the following week prior to episode 2, partially because power failure, and the mainly dur to the death of American President John F. Kenned, which had prevented many people from seeing it.
A pilot episode had been recorded but was not televised at the time, with only slight differances from the first episode.

All 4 episodes exist. A pilot episode of episode 1 also exists, this was transmitted in an evening of special programs in 1991 to mark the closure of Lime Grove Studios.

Ealing filming. (19 September; 9 -11 October 1963)
Studio recording in Lime Grove D. (27 September; 18, 25, October; 1, 8 November 1963)

Episode 1 - The first time that Ian and Barbara enter the TARDIS, Susan operates the door switch. Later on, the Doctor electrocutes Ian, when he uses the same switch
Episode 1 - While Ian and the Doctor are examining the clock in the TARDIS, both of them interrupt each other.
Episode 1- Ian claims that the Doctor closed the TARDIS doors, though in fact it was Susan.
Episode 3 - Scrolling backgrounds are seen when the TARDIS crew runs on the spot, while they are escaping through the forest.
Episode ? - At one point, a stagehand can be seen through a 10-20 centimeters gap in one of the corners of the TARDIS.