The TARDIS lands near what appears to be a peaceful English village. But the inhabitants are strange and unfriendly,
responding like robots to mysterious signals. Mechanics with gun like hands appear from nowhere. The Doctor discovers that they are not on Earth at all but in a replica village built on their own planet by the Kraals, an alien race bent on the conquest of Earth with the aid of Androids. The Doctor and Sarah return to Earth in the Kraal ship in time to foil the Kraal invasion. Some of the UNIT's leaders have already been replaced. The Doctor reprogrammes an Android copy of himself to prevent Styggron, the Kraal scientist, from destroying Earth's population with a super virus.

.




The Doctor: Tom Baker
Sarah Jane Smith: Elisabeth Sladen

Guest Appearances:
Guy Crawford : Milton Johns
Styggron: Martin Friend
Chedaki: Roy Skelton
Adams: Max Faulkner
Morgan: Peter Welch
Kraal: Stuart Fell
Faraday: Patrick Newell
Colonel Faraday: Patrick Newell
Corporal Adams: Max Faulkner
Grierson: Dave Carter
Matthews: Hugh Lund
Tessa: Heather Emmanuel




Producer: Phillip Hinchcliffe
Script Editor: Robert Holmes
Writer: Terry Nation
Director: Barry Letts
Designer: Philip Lindley
Costume: Barbara Lane
Make up: Sylvia Thornton
Visual Effects: Len Hutton, John Friedlander
Music: Dudley Simpson
..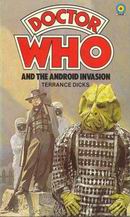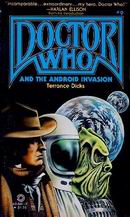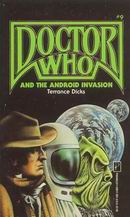 Novelized as "Doctor Who and the Android Invasion" by
Terrance Dicks (0 426 20037 3) first published by W H Allen,
(now Virgin Publishing Ltd) in 1978 with cover by Roy Knipe.
Target library number 2.
The American Pinnacle edition was released in January 1980, as number 9 in the series. It was followed by six reprints, the final one being printed in November 1989. There were minor variations in the cover throughout the run. Cover art by David Mann.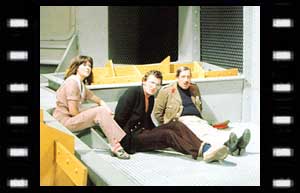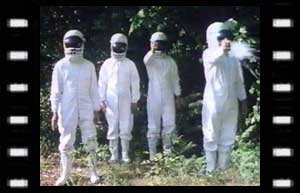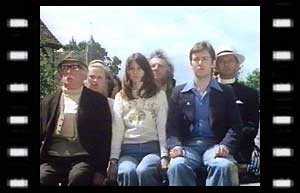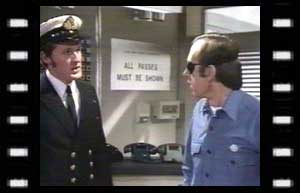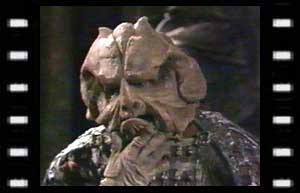 .


a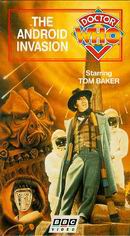 Released in the UK as "The Android Invasion" episodic format, in March 1995 (BBC Video catalogue # 5526). Released in the US and Canada (Warner catalogue # E1309). Cover by Colin Howard.


This is the last UNIT story until "Battlefield" (7N) in 1989.
Tom Baker performed his own stunt for a scene in which the Doctor is submerged in a river. Unfortunately, he swallowed too much water and had to be taken to a hospital to have his stomach pumped.
"The Android Invasion" marked the final regular appearances of two UNIT stalwarts: John Levene and Ian Marter both left Doctor Who. Levene found the absence of Courtney unpleasant, while Marter had hoped his character would be killed off heroically.


All four episodes exist in color on videotape.

Studio recording in Stage TC3. (11-12 August 1975)
Studio recording in Stage TC8. (25-26 August 1975)
National Radiological Protection Board, Harwell, Oxfordshire. (21 July 1975)
Worsham Quarry, Witney, Oxfordshire. (22 July 1975)
Tubney Wood, Tubney, Oxfordshire. (23-24 July1975)
East Hagbourne, Oxfordshire. (24-25 July 1975)


Episode 1 - There's a scene where the mechanics are shooting at the Doctor and Sarah, and they dive for cover behind a "meteorite". In the shot when they later run for it, you can see a tarpaulin spread behind the meteorite - which wasn't there before. Presumably it was put there so that the cast wouldn't get their costumes dirty when they dived for cover.
Episode 1 - While the Doctor and Sarah are walking through the forest (right after they leave the clearing which the TARDIS is in), the Doctor pulls a branch out of his way. Lis Sladen isn't paying close attention and is in the middle of her line when the branch flies back and hits her in the face. You can tell she was stung a little because she give a little squeak but manages to finish her line.
Episode 1 - The Doctor's scarf gets caught in the bushes and branches while walking along with Sarah, and Lis Sladen clearly laughs out of character.
Episode 1 - When Tom Baker arrives at the Space Defence Centre, he asks a stony-faced android guard where the commanding officer can be located. The guard obviously has his pause button pressed, and is unresponsive - except for an uncontrollable blink as Tom moves away. The actor looks duly abashed.
Episode 2 - Tom Baker throws the android Sarah to the ground at the episode's climax, and her face plate falls off to expose her electronic innards. The fake hair adorning its head is appallingly obvious, being a completely different texture and shade to Elisabeth Sladen's own hair.
Episode 4 - When the Doctor comes through the automatic doors of the real Space Defence Centre for the first time, they slide open, but don't quite close. The poor souls in charge of making them slide don't notice. The resulting gap could have devastating effects on their air-conditioning bill...
Episode 4 - In the fight scene between Tom Baker and his stunt double android, the wig choice for his double leaves a great deal to be desired, looking more like a Kevin Keegan perm than Tom Baker's distinctive mop.
Episode 4 - When the Doctor's android double is finally destroyed, its skin disappears to reveal the metal skeleton beneath. What's problematic is that the skeleton is clearly larger than Tom Baker's face; watch his left cheek in particular.